"With Bosch, I always thought of products; with universities, I always thought of science. Today, I understood for the first time that there is an exciting world right in between", says one student.
On October 24 and 25, around 600 visitors to the event "Inventing the Future – University of Stuttgart meets Bosch" at the Vaihingen campus of the University of Stuttgart got the chance to experience what this world looks like. Visionary lectures, top-class discussion panels, exciting exhibits, and engaging information booths on the topics of simulation science, autonomous systems and intelligent robotics, quantum technology, and mobility were on the agenda.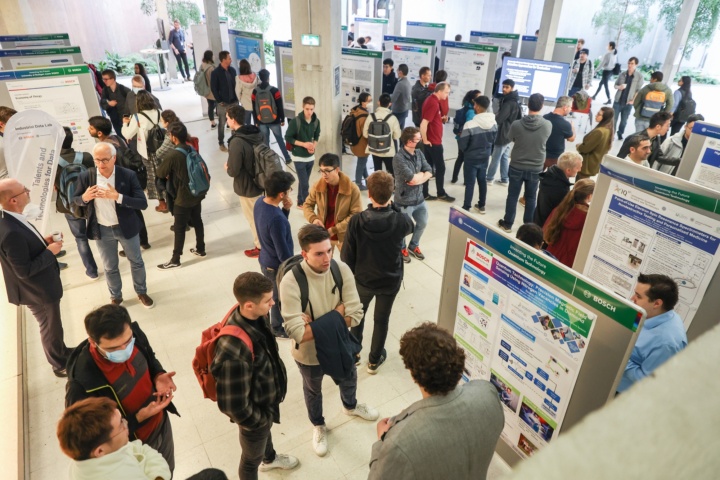 The University of Stuttgart and Bosch have been in close cooperation since 1923. Looking to the future, the partners agree: Close cooperation between industry and science is now more important than ever in order to be able to keep up with technological progress and drive forward sustainable ideas from the University of Stuttgart and Bosch. "For our common strategic perspective, the event was therefore critically important," says Prof. Wolfram Ressel, Rector of the University of Stuttgart.
Dialog between science and industry
As the complexity of technological and societal challenges increases, so do the expectations placed on universities and companies. They should identify these challenges at an early stage, develop solutions at the highest level, and pass on expertise to the next generation. Various rounds of presentations and panels, each co-chaired by members of the university and Bosch, focused on these challenges between cutting-edge research and innovation.
The presentations in the "Intelligent Robotics and Autonomous Systems" area were dedicated to the future in robotics and artificial intelligence. Prof. Frank Allgöwer, director of the Institute for Systems Theory and Automatic Control at the University of Stuttgart, Dr. Kai Arras, head of robotics research at Bosch, and Dr. Michael Pfeiffer, head of AI research at Bosch, posed the question of possible and desirable future scenarios and showed which programs have recently been set up at the university and Bosch in order to research and implement intelligent systems.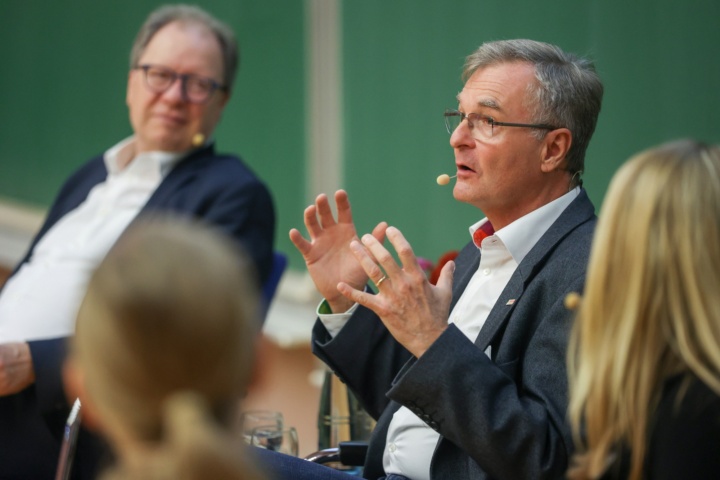 The topic area "Data-Integrated Simulation Science" was dedicated to three major methodological approaches in the natural and engineering sciences: simulation-based, data-based, and experimentally generated models. "While basic research on combining the three paradigms is being conducted in the SimTech cluster of excellence of the same name, according to Steffen Staab, Professor of Analytical Computing at the Institute of Parallel and Distributed Systems, coupled approaches are now also increasingly being used at Bosch" says Dr. Jan-Martin Kaiser, senior manager at Bosch.
In the panel "From Quantum Physics to Quantum Technology", after a keynote speech by Prof. Jörg Wrachtrup, Head of Department of the 3rd Physics Institute, there was a lively discussion on what the path from quantum research to quantum innovation could look like. What became clear in the other panels became quite clear here as well: Without a combination of academic and industrial capacities, research and development in Germany will remain below their potential at the international level.
Finally, Dr. Mathias Pillin, chair of the Bosch Cross-Domain Computing Solutions division, presented the paths that will be taken in order to further develop the software-assisted automobile.
Lisa Przioda, Innovation Manager at Bosch, and Dr. Wolfgang Holtkamp from the University of Stuttgart moderated the sessions. The two encouraged the audience to address their questions to the speakers – an open exchange between students and graduates in an early career and orientation phase and experts from research and industry that does not happen every day.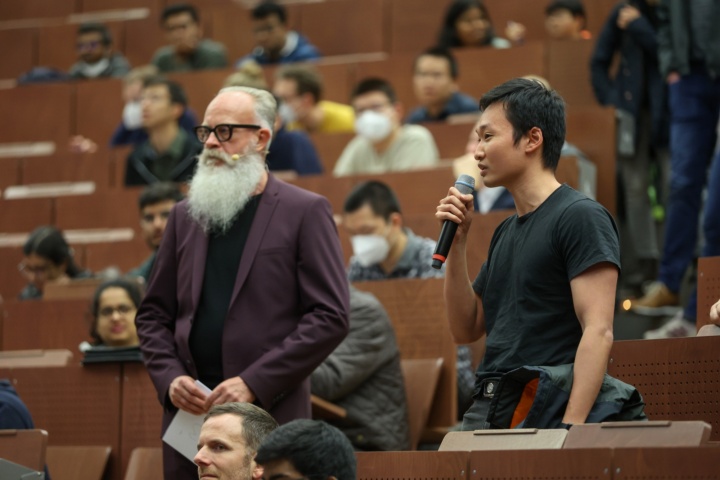 Overcoming challenges together
"Inventing the Future" also gave students the opportunity to talk with researchers about their projects and inquire about career opportunities. The cooperation partners are thus making a valuable contribution to showing how the complex world of science and technology is changing. "Especially in this area of science and engineering, we need more clever minds than ever before. Please inspire and motivate others. "Technology is cool!" says Prof. Thomas Kropf, Managing Director of Bosch Research. Prof. Ressel also emphasizes: "We – academia and industry – need to work together. And we need to include everyone: students, researchers, and start-ups. We have to dare to think differently."
Experts demonstrate technologies of the future
Outside the lecture hall, visitors experienced how theory can work in practice through a poster session and numerous exhibits. From robotic arms to quantum mini golf, the University of Stuttgart and Bosch presented exciting technologies that were the result of several months of elaborate work. In front of the lecture hall center in Pfaffenwaldring, visitors were welcomed by "Uniflitzer", the autonomous campus shuttle of the University of Stuttgart. Inside, a Spot-mini robot dog in the entrance hall attracted a lot of attention. Numerous interested visitors gathered around a giant autonomous airship that hovered above and had the propulsion technology explained to them by the developers.
What can we take away for the future?
"What I take away from today is that we need to be even more actively present at the university. We already have joint lectures and collaborations with individual researchers. But there's a lot more we can do!" says one Bosch employee. A professor at the University of Stuttgart also thinks that: "It's great that an event like this took place on a university-wide level for once. Most of the contacts with Bosch so far have been personal. The university and the company are finally standing side by side under one roof and giving students the chance to get involved. We need more of that!"