The University of Stuttgart has maintains well-established relationships with commercial enterprises - regionally as well als internationally. A close and trusting cooperation not only gives new impetus to research, but also ensures that the results of this research are transferred into practice.
Active cooperation in research and industry is a cornerstone of intelligent transfer, which paves the way for successful innovations of the future.

Prof. Peter Middendorf, Vice Rector for Knowledge and Technology Transfer
We are constantly working on expanding our networks and intensifying our cooperation. At the center of a region of great economic strength and cultural integration, we see ourselves as an effective pioneer of innovation and a hub of university, non-university, and industrial research. In us you will find a strong and reliable partner.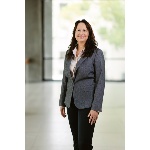 Anja Hardekopf
Assistant to the Office of the Rectorate and Project manager