A reliable partner for knowledge and technology transfer
The University of Stuttgart is home to more than 3000 researchers in around 150 institutes. They create first-class knowledge and develop a number of groundbreaking technologies. As a consequence, society can master new challenges, manufacturers can produce goods more efficiently with less use of resources, and people's everyday lives can be made more convenient.
Through knowledge and technology transfer the University of Stuttgart transforms ist findings into innovations that can be used in industry and society. Those innovations contribute to our society's competitiveness, our ability to reflect and our economic well-being.

Prof. Peter Middendorf, Vice Rector for Knowledge and Technology Transfer
The university supports the transition of its enormous wealth of knowledge and technology to industry and society in various ways. Its tradition of being home to excellent research and visionary inventors strengthens the region as a whole. The University of Stuttgart is an excellent place to reflect upon the state of society and effectively paves the way for outstanding innovations.
New developments in the field of knowledge and technology transfer
Contact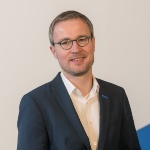 Univ.-Prof. Dr.-Ing.
Peter Middendorf
Vice Rector for Knowledge and Technology Transfer