Systematically networked
The University of Stuttgart maintains relationships with nearly 400 foreign universities all over the world. The dialogue of cultures and disciplines is cultivated in partnerships of long standing. Moreover, the university pursues joint research projects and students are empowered as international advocates of dual-degree programs. With its comprehensive strategy of internationalization, the university is expanding this network and thus continuing to strengthen its global presence.
Consistently explored
Joint research projects with other universities around the globe amalgamate the strengths of diverse cultures and locations: in Italy, in China, or in India, to name just a few examples. In Stuttgart, scientists from all continents also combine their efforts. Guest researchers are welcomed at the university for long-term residencies, or for a single semester and collaborate in interdisciplinary teams.
Steadfastly supported
The University of Stuttgart supports its students before and during their study abroad experiences at one of the University of Stuttgart's partner universities. From the first notion, through questions on financing, to advice on bureaucratic subjects and recognition of foreign academic credits. Students from abroad who come to Stuttgart are supported in equal measure, ranging from the application stage to visa assistance to expert advice and mentoring programs. Additionally, the University is expanding its English-language Master's degree study programs.
Contact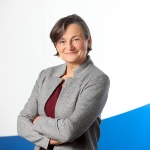 Silke Wieprecht
Prof. Dr.
Vice Rector for Diversity and Internationalization
Marion Höcke
Head of Division
Office hours: Mon - Fri 10 am to 12 pm, Mon and Fri 1:30 pm to 4 pm