Dr. Wolfgang Holtkamp, Senior Advisor International Affairs, meets scientists, alumnae and alumni, employees and students from the University of Stuttgart. The conversations are not only about the interviewee's current work, they also focus on their personality, what inspired them, and their career.
One thing that all of the guests have in common is that they have studied or worked at the University of Stuttgart, or are still doing so, i.e. they are "Made in Science". How did they become who they are? Looking back, what would they do differently? Which Swabian specialty do they prefer, Spätzle or Maultaschen? Holtkamp asks these and other exciting questions.
All podcast conversations are in English.
Latest episode: "Female engineers should talk about their achievements"
In this episode we talk to Nina Hepperle from GE Power in Switzerland. She graduated from the University of Stuttgart with a degree in aerospace engineering. Now she leads a multinational team of gas turbine and combined cycle power plant engineers. She is passionate about advocating for women&engineering and talks about what it takes to get ahead in this field.
"It is important to awaken enthusiasm for science in young people"
In this episode, we welcome Dr Tian Qiu, who is researching the high-tech medicine of the future at the University of Stuttgart. He has held a postdoctoral position at the Max Planck Institute since 2016 and has been head of the Cyber Valley Research Group since 2019. Cyber Valley is the largest AI research consortium in Europe. Host Dr Wolfgang Holtkamp talks to Tian Qiu about his exciting field of research, the future of robots and his first impression of Stuttgart.
"The goal is to make use of diversity"
With his guest Prof. Meike Tilebein, host Dr. Wolfgang Holtkamp talks about cognitive diversity and innovation, cybernetics and personal life. Born in Osnabrück, Prof. Meike Tilebein studied technical cybernetics at the University of Stuttgart. Today, she is director of the Institute of Diversity Studies in Engineering at the University of Stuttgart and also head of the Center for Management Research at the German Institutes for Textile and Fiber Research Denkendorf.
"Do you know the difference between a traveller and a tourist?"
The guest in this episode is Dr. Andreas Kannt, alumnus of the University of Stuttgart and Global Head of Procurement at Fraunhofer-Gesellschaft. Host Wolfgang Holtkamp talks with Kannt about change, global challenges and the importance of international networks and start-up culture in Germany and abroad.
"I had a chance to look at architecture in very deep way"
Wolfgang Holtkamp talks to Hee-Jun Sim, Principal Architect at ArchiWorkshop, Seoul and alumnus of the University of Stuttgart. Among other things, they talk about architectural trends in Korea, Hee-Jun's life as an architect and the Seoul Biennale Of Architecture And Urbanism 2021.
"You are never too young to do something"
Wolfgang Holtkamp talks to Dr. Kristy Peña Muñoz, Mexican engineer and alumna of the University of Stuttgart. She talks about what hotel owners in Mexico are doing to prevent tourist hotspots from drowning in garbage. The waste expert's motto: protect the environment and promote sustainability.
Contact
Hochschul­kommunikation
Keplerstr. 7, 70174 Stuttgart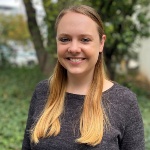 Katharina Averhage
Provisional Director Office of Alumni Relations