The building boasts a modern timber construction and overlooks two secluded lakes. Lecturers and scientists who are guests at the University of Stuttgart are offered a temporary home for periods of two-weeks to six months.
A total of 39 apartments are available, ranging from 1-room apartments to large 4-room apartments, so that even families can be accommodated. A supermarket and the Studierendenwerk canteen are just across the street. Our institutes on the Vaihingen campus, and the S-Bahn are just a few minutes' walk away.
The accommodation can be booked exclusively through the university institutes.
Contact:
Jonathan Leutwyler
Information about accommodation for guest lecturers
All apartments are fully furnished and have a fully equipped kitchen. The rent includes, heating costs, electricity, and all utilities.
If the apartments are occupied by more than one person, EUR 5/night will be charged per additional person. Children under 6 years can stay free of charge.
If the guest cancels a booking, or wants to move out earlier, or a similar situation arises that influences the rent to be paid, the institute is responsible for compensating the loss of rent.
The guest lecturer accommodation has a laundry room on the ground floor, located to the left of the office. Each apartment has its own key and this also opens the laundry room. The laundry room contains two washing machines and two dryers, each is operated by inserting coins.
Bernd Hoepfner (Bernd's Aufsperrdienst)
Phone: +49 711 72 80 111
Kontakt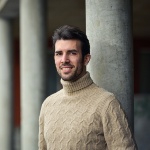 Jonathan Leutwyler
Operations Manager of the Gastdozentenhaus