frei[raum]
Ideas and teams need space for free development. The newly established makerspace in the heart of the Vaihingen campus offers students and staff the opportunity to work creatively and cooperatively. In addition to numerous events, hackathons, and workshops, frei[raum] provides work islands, creative material, and whiteboards that invite you to get started.
For support, start-up consultants are on site to accompany potential entrepreneurs on their way. Together with the frei[raum] team and in close cooperation with the Student Council of the University of Stuttgart (stuvus), we want to give the start-up scene and the committed students a place to work, network, and exchange ideas. Come by and give your ideas space to develop freely.
frei[raum] is located centrally on the Vaihingen campus of the University of Stuttgart, in the building of the university cafeteria. Between the work space "Universum" and the supermarket, in the premises of the former bookstore "Wittwer".
Office and laboratory space at TTI GmbH
The ideal location for young companies: the Technology Center of the University of Stuttgart. Innovative companies can use the university's own Technology Center TTI [de] to rent air-conditioned office and laboratory space at low cost.
The facts:
Close proximity to the University of Stuttgart, the Media University, and the Fraunhofer Institute
Offices from 20 square meters on a total floor space of approx. 4,500 square meters, and a production hall
Direct connection to the High Performance Computing Center of the University of Stuttgart and to the BelWü network (the extended LAN in Baden-Württemberg)
Centralized firewall
Meeting rooms including equipment with state-of-the-art projector technology
Powerful copier
Trade fair stand system
Kitchen
and much more
Other benefits:
Individual advice for new entrepreneurs by TTI GmbH
Access to the network of the University of Stuttgart
Research institutions on site
Young, innovative companies at the Technology Center
Contact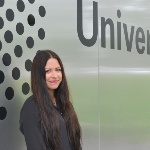 M. Sc.
Laura Rehberg
Research Associate, Project Manager