Initiatives, tips, and information on energy efficiency
Under the Energy Efficiency tab on our website, you will find information on initiatives the university has already successful launched in this respect such as Initiative 1000 in the winter semester 2014/15 and in the winter semester 2015/16.

Energy efficiency certificates
Under Energy Conservation Regulation EnEv 2014, energy efficiency certificates for all public buildings with over 250 m2 floor space must be displayed in public. The university already makes uploading energy certificates for all of its buildings larger than 1,000 m2 easy over a web interface.
The Pfaffenwald Combined Heat and Power Plant
Since 1959, the University of Stuttgart operates its own combined heat and power plant (CHP) in Stuttgart-Vaihingen. The CHP supplies not only electric power and heat to the university, but also cold-water district cooling. Heating, cooling, and steam delivery is self-contained and is exclusively assured by the CHP. In addition, the CHP is available for purposes of teaching and research.
Contact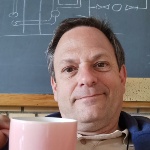 Jean-Claude Loux
Dr.-Ing.
Managing Director CHP Pfaffenwald