Individuals from nearly 130 countries study, do research, and teach at the University of Stuttgart. For even better exchanges of ideas across borders by the brightest minds and so that the University of Stuttgart can continue to enhance its competitive position internationally as a renowned research university, the aspirational motto "internationally engaged and networked" is anchored as a strategic goal in the University's mission statement. It is an integral part of our Internationalization strategy that we implement in consultation with the German Rectors' Conference HRK "Internationalization" Audit. With memberships in the most important international higher education organizations and agencies, such as the European University Associations, Ge4 and the Magalhães Network, the University is committed to transnational scientific exchanges.
Even now, our constantly expanding English-language Master's degree programs and respectively dual Master's degrees, short-term research stays, and internationally-oriented doctorate programs make the University of Stuttgart attractive to young scientists from around the world. The University also enjoys a very good reputation among top foreign researchers, as regularly attested to by the Humboldt Foundation rankings.
Our homegrown students and researchers, in turn, take advantage of the global network to study and to conduct research around the globe at some 320 partner universities with which the University maintains relationships. In some cases, as with the prestigious Georgia Institute of Technology (Georgia Tech), we have cooperated for more than 50 years. These partnerships have yielded personal relationships and networks from which both "inbounds" and "outbounds" in every stage of a scientific career have benefited in equal measure. The University of Stuttgart is also represented globally by countless alumni.
International cooperation at the highest level
The University of Stuttgart is engaged in setting up global strategic partnerships with outstanding universities that are strategically positioned in similarly-oriented science specialty fields. These partnerships are based on already existing relations and have in common the aim of actively developing and sustainably intensifying scientific collaborations.
We are focused on the best universities in their respective countries. To date, we have set up global strategic partnerships with Shanghai Jiao Tong University (China), Peter the Great St. Petersburg Polytechnic University (Russia) as well as the Università degli Studi di Bergamo (Italy).
Networked solutions to global problems
In the future, our already smoothly functioning cooperation in research and teaching with international partner facilities on the institute level will expand to include all of our University faculties. To this end, the University is building the "Strategic International Network of the University of Stuttgart" or SINUS. Going forward, researchers will use facilities at the respective partner locations to collaborate on important research topics.
Collaboration with European and non-European partners is a vital dimension of the HORIZON EUROPE research framework program, in which the University of Stuttgart is one of the stand-out universities. To exploit the opportunities arising from these activities and support international research undertakings, an EU office is available to researchers at the University of Stuttgart as a central advisory unit.
The International Center for Culture and Technology Research (IZKT) at the University of Stuttgart has contacts of long standing with researchers in France, Italy, and China that are slated for expansion in the future. The University, as a prime mover in the research- and technology-heavy Stuttgart region, wishes also to work more closely with scientific institutions in the city of Stuttgart's international partner cities. Numerous well-known enterprises with international links are already domiciled near Stuttgart now.
Service for international scientists
Are you interested in a research stay in Germany and would like acquaint yourself with the University of Stuttgart? You can make initial contact with us in our booths at international job fairs. For example, you will find us at GAIN (alternating on the US East and West Coasts) or at the MIT European Career Fair (ECF) in Boston (USA).
Our recently-inaugurated Welcome Center will help see you through the concrete planning and implementation of your stay. This central contact office will provide counseling to you both in person and over a dedicated Internet platform to relieve you of any bureaucratic burdens. You can simply get on with your research!
Even after you return home, the University will keep in contact with you as it does with all its international alumni. At the present time, we are building, for example, an alumni researcher network o for Chinese scientists.
Contact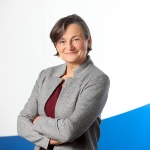 Silke Wieprecht
Prof. Dr.
Vice Rector for Diversity and Internationalization
Marion Höcke
Head of Division
Office hours: Mon - Fri 10 am to 12 pm, Mon and Fri 1:30 pm to 4 pm