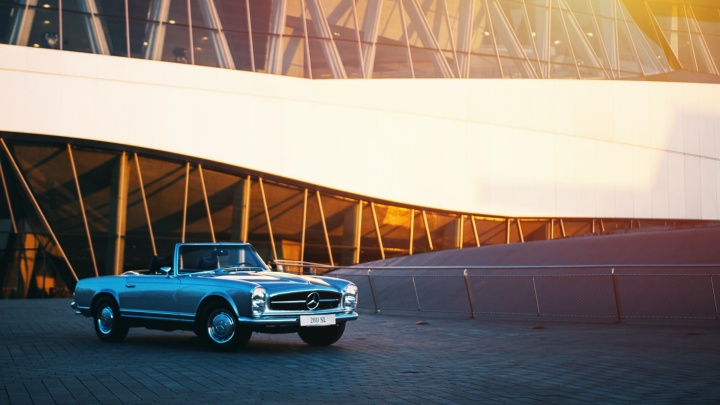 Enroll at the University of Stuttgart and you will study at the heart of one of Europe's most vibrant economic centers. The region is studded with leading companies that can provide exciting insights into business practices and offer interesting career opportunities. Stuttgart is a leader in patent registrations, with more inventions registered here than anywhere else – be it from big names like Daimler, Bosch, and Porsche; or suppliers such as Mahle and Trumpf.
The region also has a lot to offer in the IT branch – both IBM and HP have large facilities here. And it doesn't end there, the insurance and finance sectors, are also strongly represented, with top-name companies, such as the Wüstenrot & Württembergische insurance group. Stuttgart's banking center is located right next to the university's downtown campus, which is also home to the Stuttgart stock exchange.
Many of our students choose to do an internship, as this offers invaluable networking opportunities. The University of Stuttgart offers a wide range of Master's and doctoral study programs. These have a strong practical orientation, thanks to partnerships with local companies.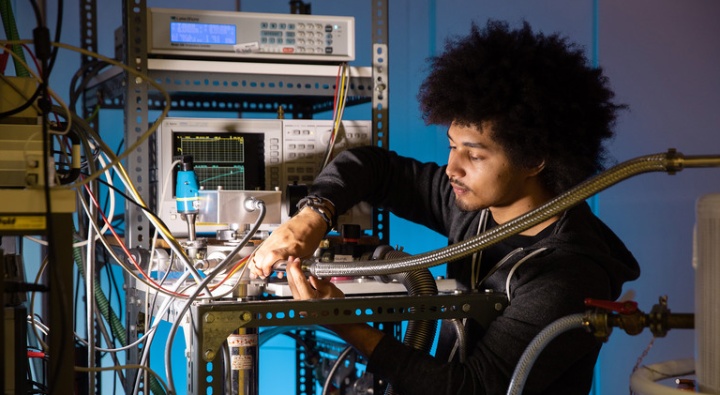 At the University of Stuttgart, research and teaching go hand in hand. The university is not only skilled in raising external funding, it also offers the best possible research and learning environment. Our students learn from expert researchers, who work with state-of-the-art tools, and are involved in cutting-edge projects on research campuses like ARENA2036, Cyber Valley, Innovation campus or the Center for Integrated Quantum Science and Technology (IQST). The university also offers more than 500 exchange programs with partner universities throughout the world, giving our students the chance to gain valuable international experience. Students here in Stuttgart also benefit from our international culture: 20 percent of our students are international students.
A wealth of interdisciplinary projects fuse expertise and interdisciplinary methods from diverse fields of research. Prime examples are the Simulation Technology Excellence Cluster (SimTech) and the Integrative Computational Design and Construction for Architecture Excellence Cluster (IntCDC). At the University of Stuttgart, engineering sciences, natural sciences, the humanities and social sciences unite to provide an interdisciplinary environment where understanding different perspectives is a matter of course.
Support for international students
The University of Stuttgart not only offers huge academic advantages, it also provides wide-ranging support for international students. Following admission, international students can prepare for their new study program with web seminars and the multimedia course "Get your studies off to a perfect start". Upon arrival, the International Office offers an orientation program with many informative and networking sessions. Our peer support programs like the buddy program ready.study.stuttgart and our intercultural mentoring program ensure that newcomers settle into their studies and life in Stuttgart right from the start. The Graduate Academy of the University of Stuttgart (GRADUS) is the central institution at the University of Stuttgart for the promotion of early career researchers and offers a wide range of qualifications, information, counseling and mentoring services.
Throughout your studies, social counseling is a central part of our support program for international students. You can count on competent advice from committed contact persons. Should you have any questions concerning your studies or life in Stuttgart, then the International Office is your first port of call.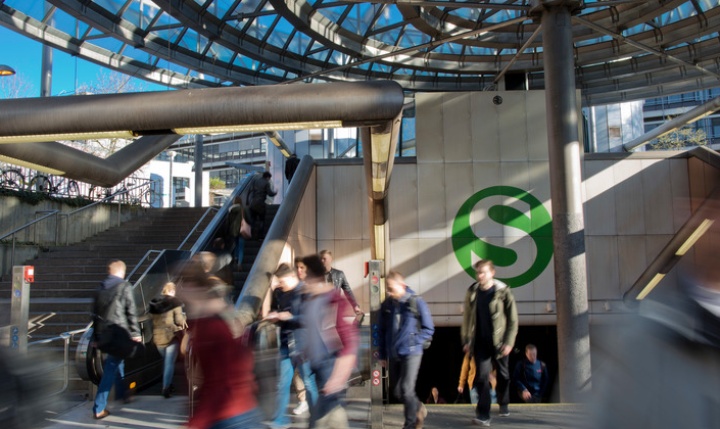 Once you set foot in Stuttgart, you will never want to leave. This is a dynamic city that boasts a high quality of living: shopping, sports, culture, and festivals – Stuttgart has it all. The metropole is surrounding by large expanses of woodland and forests, with wide-reaching green belts that make it easy to forget you are actually in one of Germany's largest cities.
A dense urban transit network connects the university, situated in the midst of a dynamic metropole, with nearby recreational areas, from vineyards to the Jura mountains, reaching to the Black Forest and beyond.
The Student Services do much to enhance the quality of life for the university's 60,000 students. On Campus Vaihingen, living and learning exist side by side, with halls of residence right next to the institutes. Also located on campus are sports facilities, cafeterias, cafes, and shops. Sports groups, intramural teams, and interest groups also play their part in creating a rich extracurricular life.
S-Bahn commuter trains take students directly to the Campus Vaihingen, where they disembark at the university's own station by the campus library, just a few steps from the cafeteria. The downtown campus is also easily accessible via public transport. An eight-minute ride takes you to Stuttgart's main train station. The Börsenplatz tram stop is also located in close proximity to the city center campus.
The University Campus
The campus of the University of Stuttgart is divided into two main parts (Campus Vaihingen and Campus City Center) and some smaller areas. With our drone flight video you get a first impression.
Drone flight over the campus Vaihingen and campus city center
You can see the Vaihingen campus up to 3:11 and impressions of the city center campus from 3:12.
Video transcription
Become a problem solver for the big questions of tomorrow!
The University of Stuttgart will prepare you for tackling the challenges that face society. Study fields such as Mobility of the Future, AI & robotics, sustainability, resource efficiency, construction, quantum science, biomedicine or social sciences and the humanities and become a problem solver.