The University of Stuttgart understands the diversity of its members and varied disciplines as a source of potential. Dealing intelligently with diversity is a vital part of successful diversity management and essential for excellent science, successful learning and the integration of different perspectives and backgrounds.

Prof. Dr. Silke Wieprecht, Vice Rector for Diversity and Internationalization
The University of Stuttgart is a signatory of the Diversity Charta. The goal is to create an open-minded working environment that recognizes and promotes diversity. Open mindedness, tolerance, respect and fairness are the basis for working together in everyday university life and for achieving organizational goals.
Diversity model
The guiding principle of networked disciplines characterizes the special research profile of the University of Stuttgart and has become one of its trademarks. Cultural diversity and consistent cooperation of complementary disciplines facilitate the use of different approaches. In combination with an agile administrative structure, this opens up unique opportunities and increases the competitiveness of the University of Stuttgart. . Therefore, the University of Stuttgart strengthens the networking of different thematic and methodological approaches to knowledge in research and teaching.
The University of Stuttgart will continue to promote diversity as a research topic in the future. In late 2009, the Institute for Diversity Studies in Engineering (IDS) was established at the University of Stuttgart for this purpose. The IDS investigates the innovation potential of diversity and distinctions between socio-technical systems in the context of digital transformation.
Diversity dimensions
The University of Stuttgart provides a space for its members to develop their personal potential and be successful in their tasks and goals. Diversity, equal opportunities, and inclusion provide the framework for a productive and effective work and study environment. With its diversity concept the university addresses various dimensions and derives a variety of diversity measures from them.
Diversity in action at the University of Stuttgart
Diversity concept
The diversity concept serves to bundle the activities and positioning of the University of Stuttgart.
How teams at the University of Stuttgart benefit from diversity
[Photos: o.A., GTUS-Max Partenfelder, o.A., o.A., o.A., o.A., o.A.]
Silke Wieprecht
Prof. Dr.
Vice Rector for Diversity and Internationalization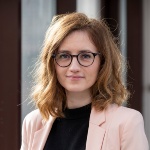 Katharina Wilhelm
Personal Assistant to the Vice Rector for Diversity and Internationalization