Support for prospective students and students from Ukraine
Do you want to study at the University of Stuttgart, or need information about how to enroll? You can find more information about our study programs, application requirements, language courses and funding opportunities here.
Advice about enrolling on a study program
Psychological counselling
Support services from the global scientific community
How can I get involved?
The following list offers an overview of both local and Germany-wide initiatives and aid organizations that collect donations or support refugees after their arrival.
The University of Stuttgart wants to establish a network of helpers, initiatives and campaigns. University members can register their support activities and initiatives using the form on the German-language website. Registered initiatives will be published in our list of initiatives in a timely manner.
Initiatives in support of Ukraine
[Photos: Begegnungsraum Stuttgart e.V., o.A.]
Kontakt
Elena von Klitzing
Head of Welcome Campus for Refugees
Mon+Tue 2-4 p.m., Tue+Thu 10 a.m. to noon (and upon request)
Raphaela Diel
Head of Welcome Center for International Scholars
Please schedule an appointment by e-mail or phone for a personal online or face-to face consultation.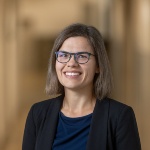 Lydia Lehmann
Acting Head of University Communi­ca­tions and Acting Press Spokesperson