Science Day is the University of Stuttgart's "open day" and will be held on May 13, 2023. In this multi-part series, we will be presenting just a few program items, but there is much more to discover: Visit us and choose your own personal highlights. Feel free to browse our event app [de] in advance, mark the program items you would like to visit and be prepared to be amazed by the variety of our program.
Highlights part 6: Student information event - small study programs
Dein Plan für die Zukunft!
Time: 1 p.m. to 7 p.m.
Location: Pfaffenwaldring 47, Raum 47.01, 47.02., 47.03, 47.05, 47.06
More information can be found in the program app. [de]
The University of Stuttgart offers around 60 bachelor's degree programs split into four different subject areas: Engineering, Natural Sciences and Mathematics, Language and Cultural Studies and Economics and Social Sciences. What do these subject areas mean? What do the individual study programs involve? And what is it like to study at the University of Stuttgart? At the student information day you can find out all about the different study programs offered by the University of Stuttgart in bitesize form
Highlights part 5: Practice around study
[Photos: Screenshot NASA, o.A., o.A., o.A., o.A., o.A., o.A., o.A.]
Highlights part 4: Sustainable energy
Kids´University: "How does a self-driving car see and hear?"
Time: 1 p.m.
Location: Pfaffenwaldring 53, Room 53.01
More information can be found in the program app. [de]
How does a car that has no driver steer? How does a self-driving car know if the road is clear? How does it know if the light is red or green? Dr. Dan Greiner will answer these and other questions. The lecture will also include an opportunity to see and touch technology up close. As a special experience, we will put ourselves in the position of a self-driving car and view the lecture hall as a car would see it.
For children from 8 to 12 years.
Event language: German
Highlights part 3: Sustainability and environmental protection
[Photos: Elisabeth Ruethlein, IPOC Uni Stuttgart, o.A., o.A., o.A., o.A., o.A., o.A., Festo Didactic]
Inquired about: Noelia studies Environmental Engineering [de]
Climate change, plastic waste, air pollution - countries around the world are struggling with environmental problems. Noelia Villagómez studies environmental engineering at the University of Stuttgart. In the video, Noelia talks about how studying at the University of Stuttgart has opened up opportunities for her in the field of sustainability and resource conservation. Many of the stands set up for Science Day will be presenting innovative solutions for these issues.
Highlights 2: The future of construction
Creating a digital twin
Time: 1 p.m. to 7 p.m.
Location: Nobelstr. 19
More information can be found in the program app.
On Science Day, you will get a glimpse of the future design of the campus, as well as the fine dust and nitrogen oxide pollution in the region in the digital twin of the city of Stuttgart and the surrounding area. Immerse yourself in virtual worlds: Come and experience a virtual reconstruction of the Palace Theater in Ludwigsburg, the State Theater and the State Opera in Stuttgart.
Highlights part 1: Digitalization and simulation
Sim & Tech: The theft of the diamond pretzel
This DetectiveDuo, brings research by the SimTech Cluster of Excellence in the field of simulation science to life. In this moving picture comic, the dedicated and clever detectives Samantha Sim and Tony Tech, Sim & Tech for short solve every case. To this end, the two need new ideas and assistance from the (young) scientists at SimTech. The cases are based on real problems from the work of simulation scientists.
Children of primary school age and above
Time: 1 p.m. to 7 p.m.
Location: Pfaffenwaldring 5a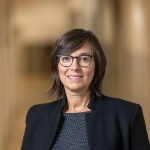 Claudia Berardis
Coordinator PR and Marketing, Online Editor