The MINT-Kolleg Baden-Württemberg is an institution for new students and those interested in studying, who would like to improve their knowledge in the STEM subjects Science, Technology, Engineering and Mathematics. (MINT is the German equivalent for STEM.)
The best way to begin studying
The comprehensive options are divided into courses preparing for and courses complementing university studies.
Those interested in studying at a university can choose, according to their level of knowledge, between compact courses, such as the three-week pre-course, or preparatory courses, lasting from one to two semesters.
In these courses, which coincide with the university courses, students can strengthen and deepen their knowledge. Typical courses deal with higher mathematics or technical mechanics. The courses take place in close coordination with the respective study programs. Exam-Preparation courses and general courses, such as work techniques, time-management and self-organization, round off STEM's offer. Additionally, the "open study room" allows students to learn independently under qualified supervision.
Successful study
Each semester, roughly 1,400 students attend the MINT-Kolleg courses in Stuttgart. Furthermore, around 1,600 new students visit the pre-courses before entering the university. The MINT-Kolleg has 20 highly-qualified teachers who support the students in preparing themselves optimally for studying science and/or engineering at the university.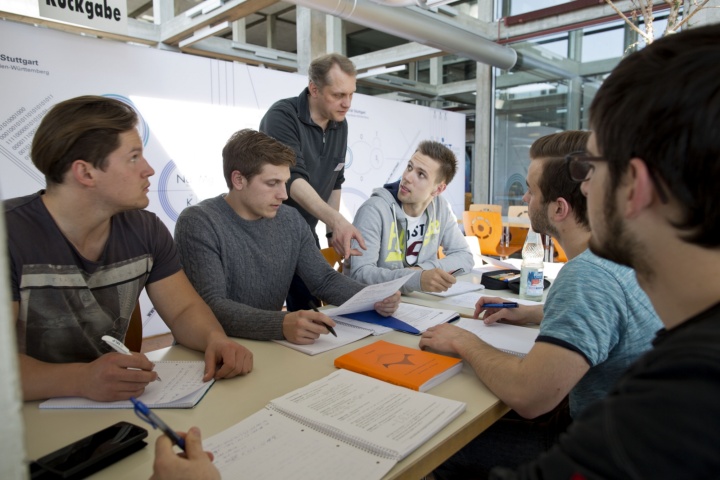 Contact
Azenbergstraße 12, 70174 Stuttgart, (Carl-von-Bach-Haus)