Diversity is a hot topic that is currently on everyone's lips, both in politics and wider society. But what does this term mean to us at the University of Stuttgart? What aspects can we be satisfied with and even proud of? Where do we need to improve? Who is involved? And what areas are still regarded with skepticism? What should we focus on next?
Working together with a dedicated group at the University of Stuttgart, we are exploring these questions as part of the diversity auditing process "Shaping Diversity". Diversity means participation - and only by participating can we live and breathe diversity on campus, in the offices, workshops and laboratories at the university. That's why we want to shape the nationwide Diversity Day of the Diversity Charter together and ensure that everyone has a voice.
Program
From 8.30 a.m.

Arrival, informal meet and greet.

9 a.m.

Welcome and interview with the auditor, Dr. Isabell Lisberg-Haag and Rector, Prof. Dr. Wolfram Ressel, on the topic of diversity at the University of Stuttgart.

9:30 a.m.

Keynote speech followed by a discussion on "Inclusive Data Collection", Dr. Jörg Dollmann, Head of the Research Data Center at the "Data - Methods - Monitoring" cluster at the German Center for Integration and Migration Research (DeZIM), Mannheim Center for European Social Research (MZES).

10:15 a.m.

10:30 a.m.

World Café on various key topics

Diversity, equity, inclusive university culture ... What?!?
Where do I encounter diversity in everyday university life?
How can we establish a durable welcoming culture?
Diversity is missing here - what are the gaps?
Diversity-sensitive teaching - what is it? How can it succeed?
Diversity-sensitive/non-discriminatory administration - what does that mean?
Diversity and data - which ones do we want and what haven't we thought of yet?
Diversity and digitalization - thinking together what belongs together?
diversity@us.de - making diversity more visible
Diversity networks - working together for more diversity
Do I belong?

12:30 p.m.

Event ends. Get-together and networking at a finger food buffet.
In the morning, a live visualizer will be present to create a graphic recording of the event.
Where?
Campus Vaihingen/ former campus.guest building
Universitätsstraße 34
70569 Stuttgart
Registration
For organizational purposes, we ask that you register by 5.17.2023. You are also welcome to inform us of any special requirements, for example regarding accessibility. If you have any questions about the event and/or registration, please contact Barbara Scheubert, Diversity Management Officer.
All interested parties - both university members and the general public - are cordially invited. Attendance during working hours is permitted.
Diversity Day #DDT23
This year, the University of Stuttgart will be celebrating Diversity Day for the fifth time. In 2017, the University of Stuttgart signed the Diversity Charter, with the aim of creating an open-minded (working) environment that recognizes and celebrates diversity.
Promoting diversity at work: A review of the German Diversity Day at the University of Stuttgart
k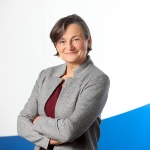 Silke Wieprecht
Prof. Dr.
Vice Rector for Diversity and Internationalization
Barbara Scheubert
M.A.
Consultant for Diversity Management