The 3D printhead moves slowly over the printing plate. Once to the left and then to the right and back again. It creates a 0.2 millimeter layer of plastic filament. As soon as the printer has printed a rectangle, the extruder springs up a level and begins printing the next layer. This example of 3D printing was carried out for the workshop "Making things from ideas: designing and printing 3D models". This event was streamed live using a video camera, to an audience of 15 schoolgirls, who watched as the green plastic shape grew in height until the keyring was completed.
Theresia Bauer, Minister of Science, Research and Art, also visited the University of Stuttgart's Girls' Day online. She is patron of such activities in Baden-Württemberg and she strongly believes in the importance of events like Girls' Day at the university: "We need universities, so that we can ensure we are well prepared for the future. There are so many unsolved problems and uncompleted tasks. We need people who are prepared to take responsibility, who have ideas, who are clever and want to work with us to solve problems."
3D printing explained using cake and sugar icing as an example
This workshop was led by Maria Barnhart, together with Sannah König. She explained to the girls what they were seeing: "The 3D printed works with three-dimensional objects. That means, they have an X, Y and a Z axis." Maria Barnhart, who works at the university's Technical Information and Communication Services (TIK), explained how she creates a 3D object using the online 3D modelling program Tinkercad. The completed object is exported as an STL file. She explains, "I have a so-called 'slicing software' on the computer. This recognizes my STL file as a coherent 3D object and then deconstructs it into layers. Imagine you have a cake base. If you want to split this into layers, then you have to separate it with a knife". The printer then prints the layers over each other. This is a bit like sugar icing that is added to the cake in layers. "There are even 3D printers that can print chocolate", laughs Maria Barnhart.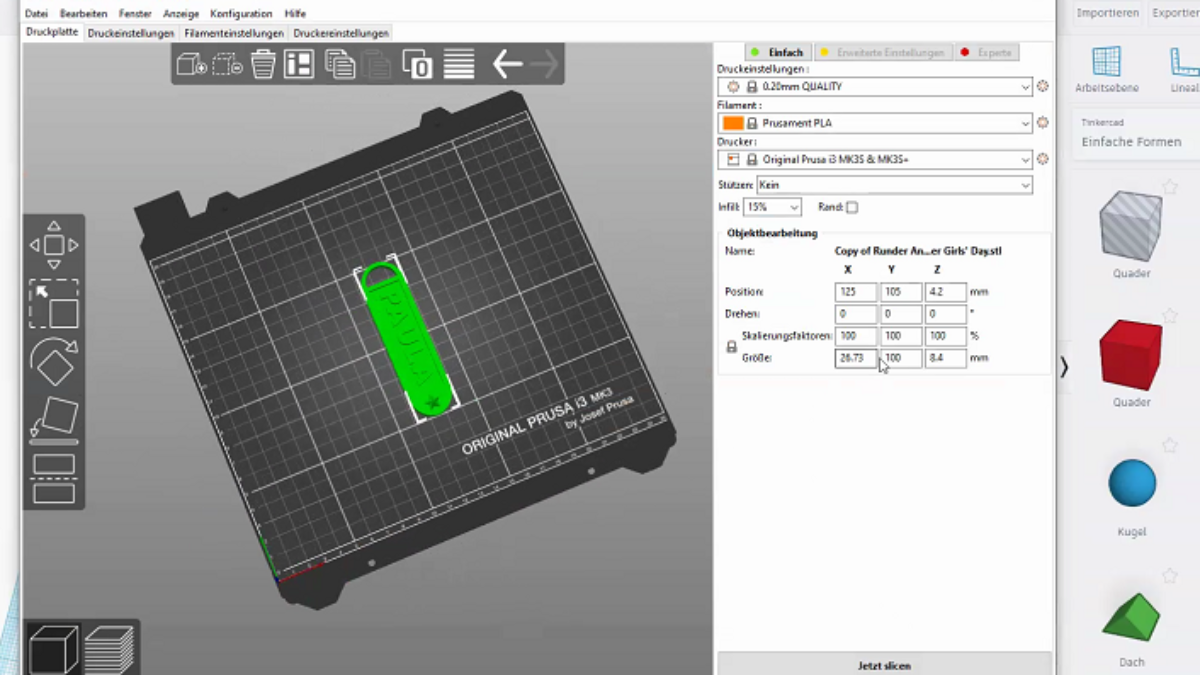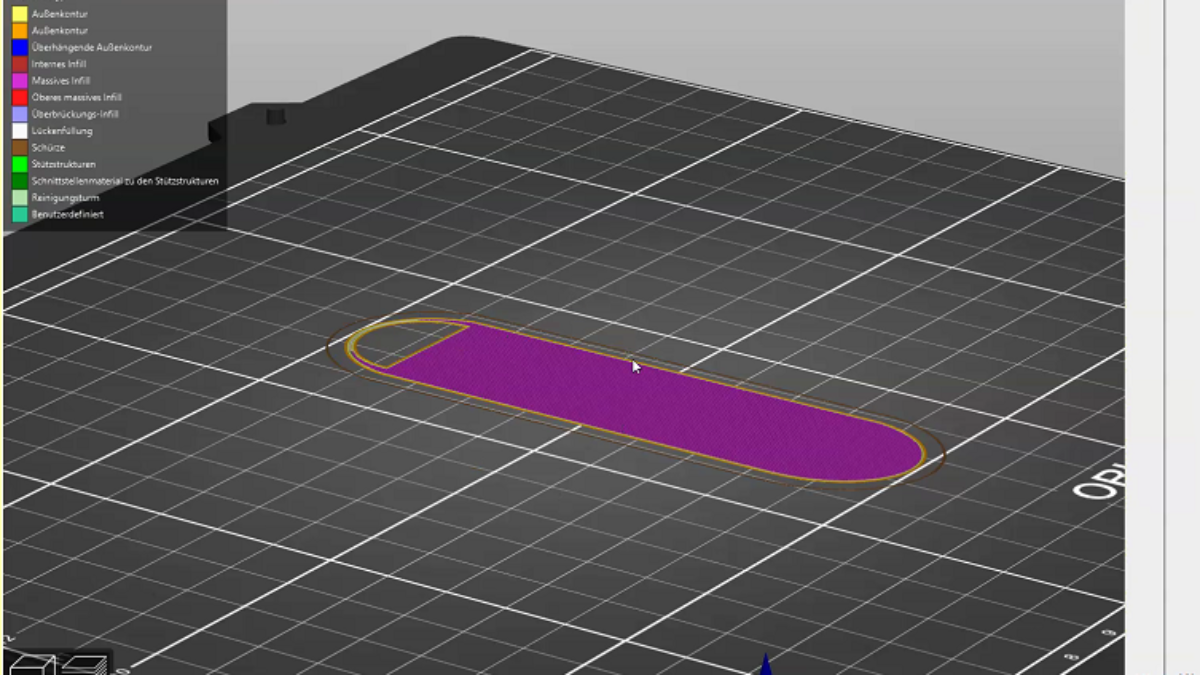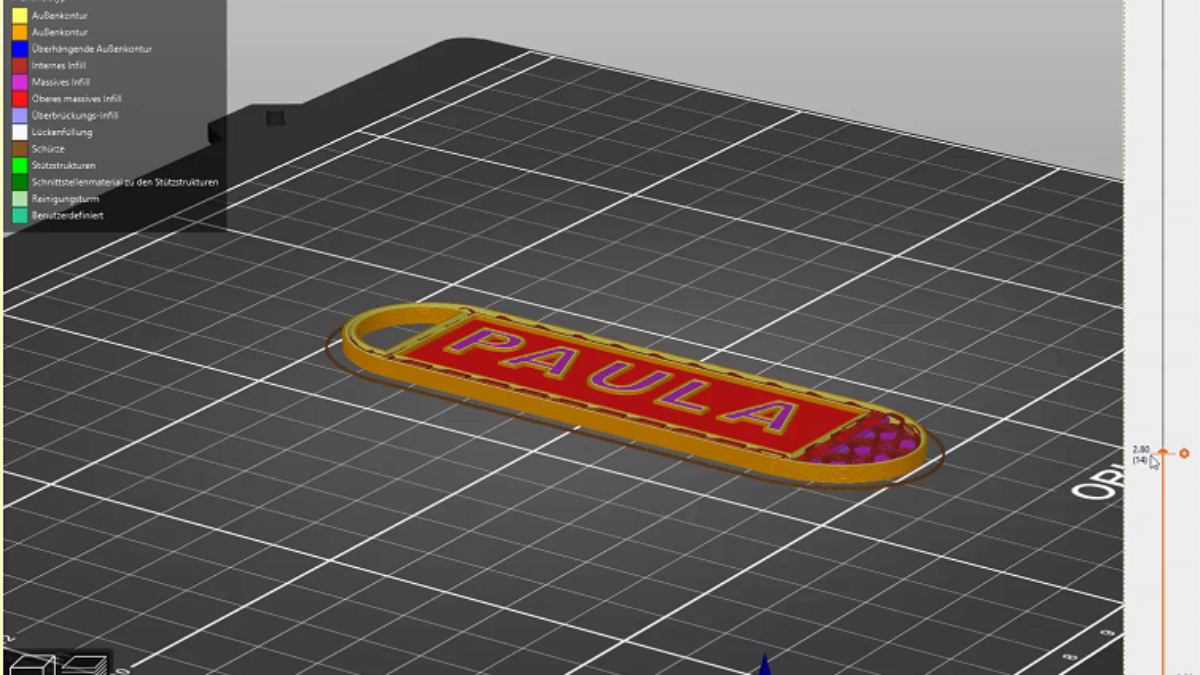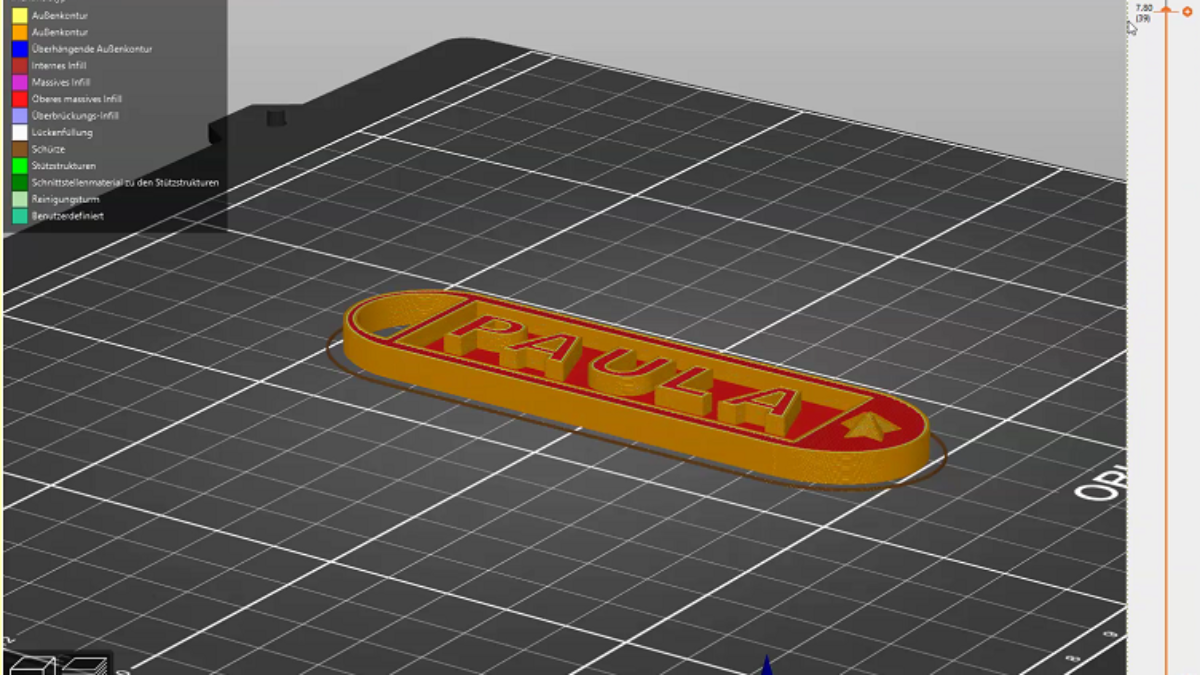 Don't be scared of gas burners, football or car races
In this workship, each girl uses Tinkercad to design a 3D model of a keyring with their name on it. This is not easy and some of the participants found that the letters get mixed up. "I found it difficult, but by the time I got to the last two letters I had got the hang of how to push and pull it up", says one of the girls. Sannah König knows that role models are important when it comes to staying motivated and persevering. "It is important to see people who are really good at something when you are just beginning to learn it", says die media didactician of the TIK. Her role model is Margaret Hamilton, the head of software development for the Apollo missions. The schoolgirls also have female role models who they think are really cool, such as the racing driver Carrie Schreiner, footballer Giulia Gwinn, or Arina Averina, who is a competitive sports gymnast.
One girl tells us about her chemistry teacher, who encouraged her to take the gas burner test. "I once held a sparkler, and the sparks hit my hand. It hurt a bit. And that's why I was scared of lighting a match", she says. The teacher had helped her to light a gas burner, which stopped her being scared of it, and she also encouraged her to try it herself. "Then I lit it myself and she said I had done a really good job" reports the girl proudly. "Then I wanted to blow out the match, but I was wearing a mask. Half the class started to laugh. I laughed too."
Creating new things with lots of enthusiasm
By the end of the workshop, the schoolgirls have all managed to complete their 3D models. The keyrings will be printed at the University of Stuttgart and sent to the girls by post. The girls show Science Minister Theresia Bauer their completed 3D keyring models and she speaks to them about talents. What talents do you need to be sucessful in politics? "I believe, politicians need to be able to motivate people to take action. And you need to be able to talk a lot. You have to be prepared to give it your all. It's not about just having a little bit of fight in you, it's about using all of your energy, all of your passion", says Theresia Bauer. She says, she began organizing groups quite early on, she learnt how to compromise and how to work with others to achieve a particular goal. The minister also revealed who her role model is: her German teacher, who was so passionate about what she taught and she wasn't afraid to show it.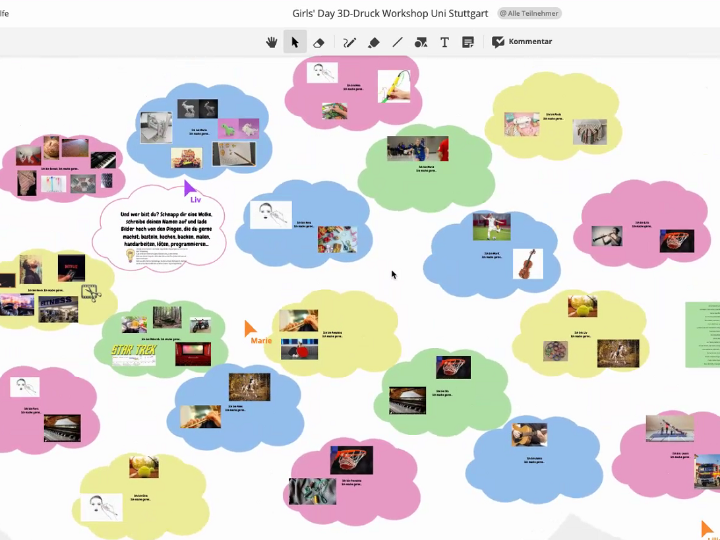 The TIK employees also want to encourage and inspire the girls at Girls' Day. Sannah Königs tip for them: if someone says you can't do something, do it anyway. "With as much glitter as you want, or with no glitter if you prefer. It doesn't matter what other people say." "You can be an engineer and still wear glitter shoes", says Maria Barnhart.
Girls' Day at the University of Stuttgart
The 3D-workshop was part of the joint project MakEd_digital [de], funded by the Federal Ministry of Education and Research in the context of the Professional School of Education Stuttgart-Ludwigsburg. This project aims to encourage the development of educational-didactic makerspaces. This event is one of more than 30 activities offered at the University of Girls' Day, to show girls how exciting science and technology can be. Schoolgirls in classes 5 to 10 were invited to get to know the university and how it works, and see what our scientists are currently researching, as well as researching new technologies themselves. The activities on offer at the University of Stuttgart's Girls' Day are extremely popular and this year, as in previous years, many events were quickly booked out. Tanja Walther, who organizes Girls' Day at the University of Stuttgart, was delighted that over 450 schoolgirls signed up.
"I've never thought about questions like this before!" - How-to-Startup event on Girls' Day [de]