As part of the "ELFLEAN" research project supported by the German Federal Ministry of Economic Affairs and Energy, the team has significantly modified the previously developed unmanned fixed wing test platform "e-Genius Mod" and installed so-called wing tip propellers replacing the winglets. The research project is led by Prof. Andreas Strohmayer (IFB) and has the objectives to investigate how efficient wing tip propellers can be and to compare the flight test data with the results of new calculation methods developed at the IAG.
As far as we know, worldwide we at University of Stuttgart are among the first research institutions to test this technology in flight, in order to investigate their capability for more energy-efficient and quiet aircraft.

Dominique Bergmann, Institute of Aircraft Design
Will there be a positive effect on overall efficiency?
"On the 'e-Genius-Mod' we shortened the wings and installed nacelles for the wing tip propeller instead. Each aircraft generates vortices on its wing tips. The propellers now rotate in the opposite direction and will influence this vortex system", Jan Denzel explained. For the overall efficiency of an aircraft this may have a positive effect.
To proof these effects the researcher installed measuring instrumentation to equip the test platform as a "flying wind tunnel". This now allows for example to directly measure thrust on all propeller systems in flight.
About "e-Genius-Mod":
The unmanned test platform is a 33.3% scale version of the electric motor-glider e-Genius which was also developed at the IFB. The "e-Genius-Mod" is an electrically powered aircraft and is used to analyse the performance of distributed propulsion and, more general, to investigate new aircraft technologies in flight. The advantage of using a scaled test platform instead of a manned research aircraft are lower operating costs as well as lower risk involved in testing unproven technologies. The wing tip propellers were developed jointly by IFB and iFR of University of Stuttgart since the beginning of the project in the year 2018. Since the maiden flight of the "e-Genius-Mod" it is equipped with an autopilot developed by Professor Walter Fichter (iFR).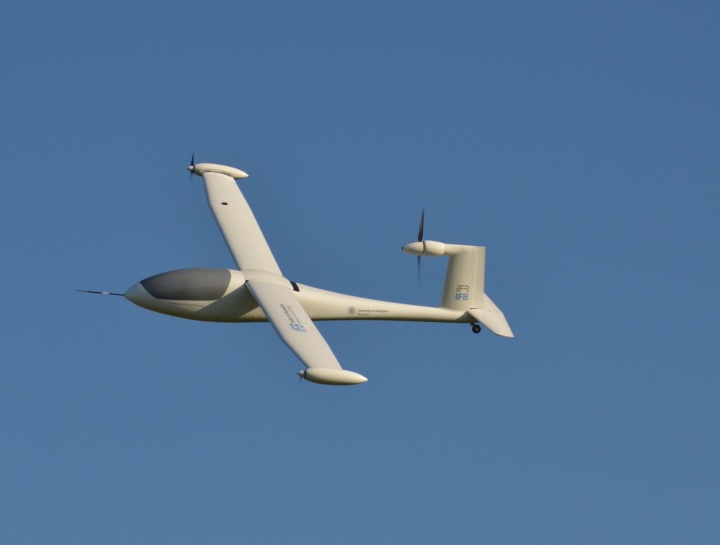 Next steps
Upcoming flight tests and alterations of the research platform "e-Genius-Mod" are already in planning stages. The scientists expect new results in the coming month.