In the post-war era, an understanding emerged that a university library must stand for humanity and democracy. Following the Second World War, society began searching for a new intellectual center and the construction of a new university building in the heart of Stuttgart was intended to make this new understanding visible and tangible. The architect Hans Volkart (1895-1965) was tasked with the challenging implementation of this desire.
The year 2021 marks 60 years since the Stuttgart University Library opened its doors to serve a free and peaceful society.
Planned and constructed from 1958 to 1961, the university library is an example of German Postwar Modernism. It was listed as a cultural monument in 2018, a status that honors its historical origins. The planning and design were influenced by exemplary US American buildings and the library buildings of the Swiss modern era.
The completed building unites the principles of functionality, flexibility and transparency. The building's comparatively low height of 12 meters underlines the organic character of the building, blending harmoniously with the surrounding landscape of the city park. The striking concrete columns reference traditions dating back to ancient temple constructions, giving the entire building a prestigious character.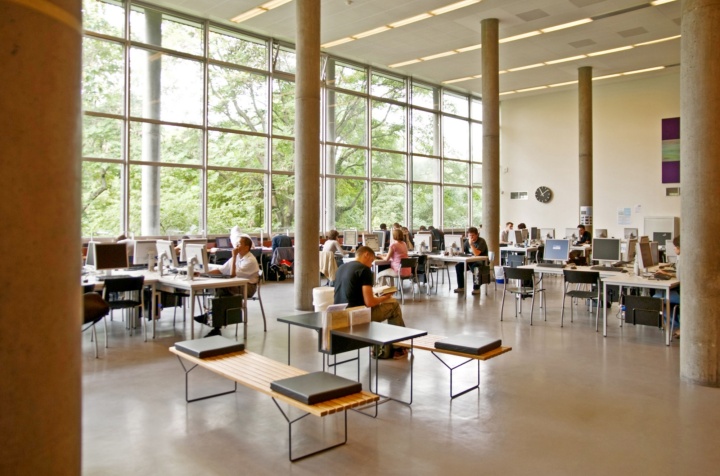 Volkart studied architecture at what was then known as the Technische Hochschule Stuttgart, now the University of Stuttgart and also later taught there as Professor of Building Theory and Design. As well as the university library, he also designed the Kleine Haus (small building) at the Württemberg State Theater, as well as numerous school and residential buildings.
To mark the anniversary, the Stuttgart University Library has published the richly illustrated "Kulturdenkmal Universitätsbibliothek Stuttgart", funded by the library's own Friend's Association. This bilingual publication by Dr. Christiane Rambach and Frank Wiatrowski is freely available as an electronic resource.