The University of Stuttgart successfully applied to participate in the diversity audit "Shaping Diversity", initiated by the Stifterverband für die Deutsche Wissenschaft. The entire process is scheduled to take about two and a half years and began in August 2022. It pursues the goal of further developing a university-specific diversity strategy.
"Actively shaping and experiencing diversity is a task for society as a whole and, in our framework, for the entire university. The university's participation in this auditing process is another step on the way to becoming an inclusive, equal-opportunity university," emphasizes Prof. Dr. Silke Wieprecht, Vice Rector for Diversity and Internationalization.
The process
The Diversity Audit "Shaping Diversity" accompanies and supports the (further) development and implementation of a university-specific diversity strategy. The audit will focus on the areas of strategy and structure, studying and teaching, service and consulting, personnel management, internal/external communication, and participation, as well as university property. In addition to five internal university workshops, five diversity forums will also be held, in the form of one-day meetings with other universities participating in the auditing process.
The project will be managed by the Vice Rector for Diversity and Internationalization. The contact person for this auditing process is the Diversity Management Officer. A steering group and a steering committee will coordinate and accompany the process. Other interested university members are also welcome to participate in the planned workshops. The entire process will be supported by an external auditor.
After successful completion of the auditing process, the process will conclude with certification by the Stifterverband. The certificate is valid for three years.
You can find more information about the Diversity Audit on the Stifterverband website. The diversity auditing process "Shaping Diversity" is the only one of its kind in Germany that is specifically tailored to meet the requirements of universities.
The diversity auditing process is a participatory process that aims to involve all status groups from as many areas as possible. If you would like to learn more about the diversity auditing process at the University of Stuttgart, or if you have any questions, suggestions, and/or are interested in getting involved, please feel free to send an email.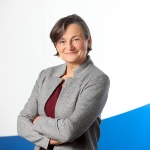 Silke Wieprecht
Prof. Dr.
Vice Rector for Diversity and Internationalization
Barbara Scheubert
M.A.
Consultant for Diversity Management