Maartje Boon will become the new junior professor within the Collaborative Research Centre 1313 "Interface-Driven Multi-Field Processes in Porous Media – Flow, Transport and Deformation" (SFB 1313 ) and the Cluster of Excellence "Data Integrated Simulation Science" (SimTech) at the Institute of Applied Mechanics (MIB) at the University of Stuttgart on 1 September 2023. She succeeds Jun.-Prof. Carina Bringedal, who received a permanent position at the Western Norway University of Applied Sciences in Bergen in October 2022.
"We are looking very much forward to welcome Maartje Boon in Stuttgart. With her expertise in the field of porous media, she will significantly strengthen the cluster of excellence SimTech within the field of Engineered Geoystems and the CRC 1313. We are looking forward to cooperations", says Prof. Holger Steeb, Director of the SC SimTech.
Boon's academic background
Maartje Boon obtained her Master's degree in Hydrogeology at Utrecht University and obtained her PhD in Petroleum Engineering from Imperial College London where she worked on reactive transport with application for geological carbon sequestration. From 2017 to 2021 she was a postdoctoral research fellow at Stanford University's Energy Resources Engineering department focusing on the impact of rock-structure heterogeneity on multi-phase flow properties and its implications for geological carbon sequestration. In 2021, she started a postdoc position at the Geoscience Engineering department at Technical University Delft where she worked on Underground Hydrogen Storage in porous media characterizing hydrogen transport from the pore- to the field-scale.
"We are delighted to have been able to recruit a young and outstanding scientist like Maartje Boon for our Collaborative Research Center 1313. With her expertise, she will enrich the experimental tests in the Porous Media Lab at the University of Stuttgart. With her research focus in the field of experimental characterization of complex multiphase processes, she will make a significant contribution to better analysis of propagation processes in porous media," emphasizes SFB 1313 spokesperson Prof. Rainer Helmig.
Research focus on energy storage
Subsurface storage in porous media has the potential to play a key role in the transition towards renewable energy sources and has been the focus of Maartje Boon's work. A specific focus will be placed on the role of wettability in influencing multi-phase flow in porous media. As such, her research will be of interest to a wide range of environmental and engineering applications. For her work, she will combine experimental observations with numerical and analytical modelling tools.
Expert Contact:
Patrizia Ambrisi, Universität Stuttgart, SFB 1313, Tel.: +49 711 685 88612, E-Mail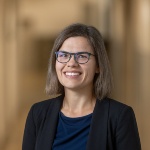 Lydia Lehmann
Acting Head of University Communi­ca­tions and Acting Press Spokesperson