University network
The professional integration of both partners of a Dual Career couple is a central concern of the cooperating universities in the Stuttgart region. The aim is to jointly develop and implement models for solutions for Dual Career couples together with the network partners.

For further details on the DualCareerSolutions network, please see the network website [de]. For questions regarding the cooperation project of universities in the Stuttgart region, please contact us.
Baden-Württemberg Cooperative State University
Heilbronn University
Stuttgart Media University
University of Applied Sciences, Esslingen
Stuttgart Polytechnical University
University of Public Administration and Finance, Ludwigsburg
University of Applied Sciences, Reutlingen
Stuttgart State Conservatory of Music and the Performing Arts
State Academy of Art
University of Education Schwäbisch Gmünd
University of Hohenheim
University of Stuttgart
University of Tübingen
University of Ulm
Contact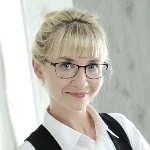 Galyna Spodarets
Dr.
Consultant Tenure Track Program und Dual Career Program