This study program is not offered in English. For further information please visit the
German version
of the study program.
This interdisciplinary study program combines Digital Humanities (DH), Art history and Romance Linguistics. The study program's primary focus is examining the relationship between text and images in romance literature in both analogue and digital formats and communicating specific skills that are relevant for both analyzing and understanding the material. The course encourages students to develop a comprehensive understanding of selected cultural theories, to independently present chosen concepts and learn the main methods used in the three subjects, based on exemplary texts, images and examples of DH.
As an alternative, it is also possible to study the languages (French and Italian)/literatures that are key to the course.
The fundamental concept of this study program is to teach students the key skills needed in the field of DH and Art History, with the integration of romance linguistics, while simultaneously combining the various subject areas to make use of and reflect on the interdisciplinary interplay of the various fields.
Prospective students should:
Be interested in languages, culture, images, media and digitalization
Enjoy reading and writing, analyzing, researching and considering media
Be able to work independently and get actively involved in research
Compile research findings and present these to an audience
Be prepared to spend time studying abroad.
Accreditation

The quality of this degree program has been certified.
Contact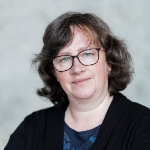 Beatrice-Barbara Hujjon
Dr.
Program Manager of Romance Linguistics