This study program is not offered in English. For further information please visit the
German version
of the study program.
The work-study Master's degree study program Intra- and Entrepreneurship (tech) combines the expertise of the Media University and the University of Stuttgart in the areas of high tech, technology development, and business startups. It mediates comprehensive knowledge on enterprise management, planning, controlling, and optimizing technologically-oriented start up and innovation projects. The studies focus business management and technology-related questions that are directed toward the special challenges faced by startups but also recently established firms. You will learn, among other, to recognize chances for technology-oriented business ideas, systematically validate them, and to use them as well to develop and support innovative solutions.
You should be interested in new business models, business startups, and enterprise management as well as the business management and technological disciplines that go hand in hand with them.
Accreditation

The quality of this degree program has been certified.
Contact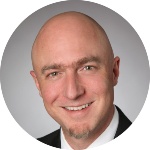 Jan Wunderlich
M.A. Dipl.-Ing.
Coordination and advice (University of Stuttgart)
HdM Weiterbildungszentrum
Information and Support by the HdM (Hochschule der Medien)