This study program is not offered in English. For further information please visit the German version of the study program.
Social Scienes (German-French)
APPLICATION DEADLINE
May 15

STANDARD PERIOD OF STUDY
6 Semester
The German-French "Social Sciences" study program deals with social structures and processes. It is taught in cooperation with Sciences Po Bordeaux. The bilingual focus on the German and French space provide the students with a high degree of intercultural competence. Together in a group of 24, German and French students alternate years between the two universities and in this way learn to navigate the academic systems and their different emphases.
Multiple additional opportunities for a stay in a third country are offered during the follow-on M.A. (German-French) in "Empirical Social and Political Analysis" Both German and French degrees will be awarded upon completion of your studies.
Students will need very good knowledge of German and French, must be open to new experiences, enjoy improvising and able to take stress. This includes being prepared to accommodate the differing instructional emphases and pedagogical methods of the two institutions.

Accreditation
The quality of this degree program has been certified.
Contact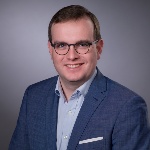 Benoît Paul Dumas
M.A.
Akademischer Mitarbeiter, Studiengangsmanager für die deutsch-französischen sozialwissenschaftlichen Studiengänge