1. You will study in the economically powerful Stuttgart area
Enroll at the University of Stuttgart and you will do your studies in the heart of one of Europe's most vibrant centers of economic activity. Here, where Daimler invented the automobile, more patents are issued than just about anywhere else in Europe. The region is populated with leading companies that can provide diverse insights into business practices and open career avenues even while you are still studying.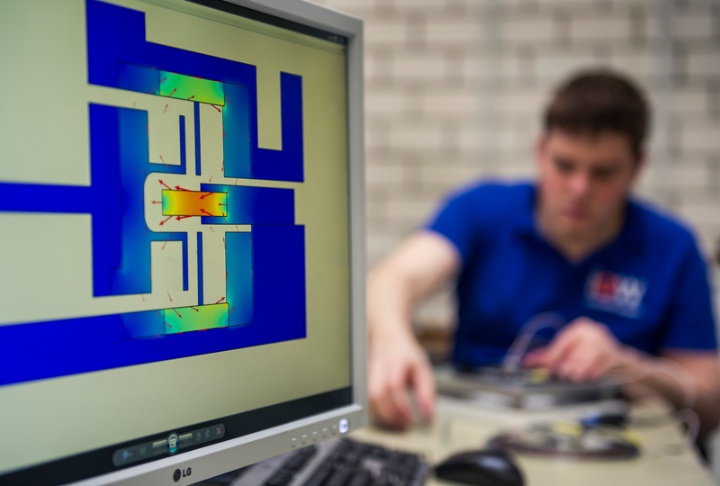 2. You will study at a leading research university
Study at the University of Stuttgart and you are where research and teaching go hand in hand. Our students learn their disciplines from experienced researchers who know precisely what they are talking about. Thanks to its top ranking among German universities in raising external funds, the University of Stuttgart can offer an optimal research and learning environment. A multitude of collaborative, leading-edge research projects provide even students opportunities to help shape the future. Our many international partnerships offer the perfect preparation for work in a globalized context.
3. You will live in the vibrant Stuttgart region
Study in Stuttgart and you will find yourself living in a dynamic place with a high quality of life. A dense urban transit network connects the University, situated in the midst of a vibrant big city, with nearby recreational areas, from close-in vineyards to the Jura mountains and beyond to the Black Forest. Ten percent of Stuttgart's residents are students, which is why you will find a rich cultural offering specifically adapted to the student population, from sports to a pulsating nightlife.
More on the three excellent reasons
Working while studying opens vistas into professional life. Many of our students take advantage of the proximity of a number of major companies to network during their internship and apply what they learn in the classroom. Similarly, Master's and doctoral studies can be pursued along practically-oriented lines in cooperation with companies located here.
Patent filings are just one indicator of the area's economic prowess. Nowhere are more inventions registered than in the Stuttgart area, with car manufacturers and mechanical engineering enterprises like Daimler, Bosch, and Porsche leading the way, and supplier firms like Mahle and Trumpf not far behind.
The IT sector is strongly represented the Stuttgart area – both IBM and HP have large facilities here. Many early-stage startups in the IT and creative sectors that are tightly networked with the University can, for example, access the computational power of the "Hazel Hen" super computer in the University's High Performance Computing Center (HLRS).
The region also scores high in the insurance and finance sectors, such as with the Wüstenrot & Württembergische insurance group. Located next to the University's downtown campus is the Stuttgart banking center with the Stuttgart stock exchange, Germany's second largest.
Our University's high external funding levels create outstanding conditions for research and teaching. Our researchers work with the most modern tools on large-scale, cutting-edge project on research campuses like ARENA2036 [de], microTEC Südwest, Elektromobilität Süd-West or the QT Quantum Research Center IQST. When researchers here teach subject matter and methods, they know intimately what they are talking about.
Students, too, benefit from our highly advanced modern technology. Many facilities are also integrated into classroom work. To cite just a few examples: Europe's largest driving simulator makes numerous car experiments possible; the VISUS Visualization Institute can graphically display enormous amounts of data and in our MPA Materials Testing Institute we go about testing the stability of innovative substances and materials.
Since the University of Stuttgart neworks globally [de] we can offer more than 500 exchange program possibilities with partner universities on all continents. These let our students gain international experience and obtain insights into how science is done in other countries. But even students here in Stuttgart benefit from our international research culture: 20 percent of our students come to us from other countries.
Interdisciplinary priority projects knit together expertise and methods from diverse lines of research. A prime example is the Simulation Technology Excellence Cluster (SimTech) under whose auspices an elite course of study is offered. Engineering sciences, natural sciences, the humanities and social sciences work together in the University of Stuttgart as a matter of course.
University of Stuttgart researchers do not reside in ivory towers. Instead, they immerse themselves in real world laboratories [de] and joint public projects with the city community at large. In this way, research findings do not come to nothing and science regularly gets new impulses toward the future. There is plenty of room here for good ideas, discoveries, and growth.
Set foot in Stuttgart once, and you won't want to leave: The Stuttgart region impresses with the multi-faceted advantages only a vibrant big city embedded in idyllic landscapes that provide high value-added recreational opportunities can deliver. Living, shopping, sports, culture, and festivals – the city has it all. Large expanses left in their natural state and many green belts make it easy at times to forget that you are actually in one of Germany's largest cities.
The 60,000 students living in Stuttgart know how to appreciate not only the city's amenities. The Student Services [de] do much to enhance student quality of life. On the Vaihingen campus, living and learning exist side by side; dormitories are cheek by jowl with the institutes. Also located on campus are sports facilities, dining halls, cafes, and shops. Collegiate sports, intramural teams, and interest groups also play their part in creating a rich extra-curricular life.
S-Bahn commuter rail takes students directly to the Vaihingen campus. They get off at the University stop situated by the campus library and just a few steps from the dining hall. The downtown campus is also easily accessible via the public transit grid. An eight-minute ride will get you to the Stuttgart main train station. Right by the campus in the city center is also the Börsenplatz tram stop.