Field of Work
Research at the Institute of Electrical Energy Conversion (IEW) is concerned with drives optimized for use in electrically powered vehicles, in particular wheel hub drives and direct drives, as well as the development of efficient and novel generators for wind and hydroelectric power plants. The IEWS also does research into contactless energy transmission, among other things enabling electrically powered vehicles to be charged wirelessly (inductive charging). In addition, inductive charging systems are developed at the institute with a degree of efficiency of over 90 per cent.

Wireless charging makes it possible to automate the charging process: in this way, vehicle batteries can be charged automatically at any time at downtown car parks, when stationary at traffic lights or on designated road sections. This is an effective way of increasing the range of electrically powered vehicles.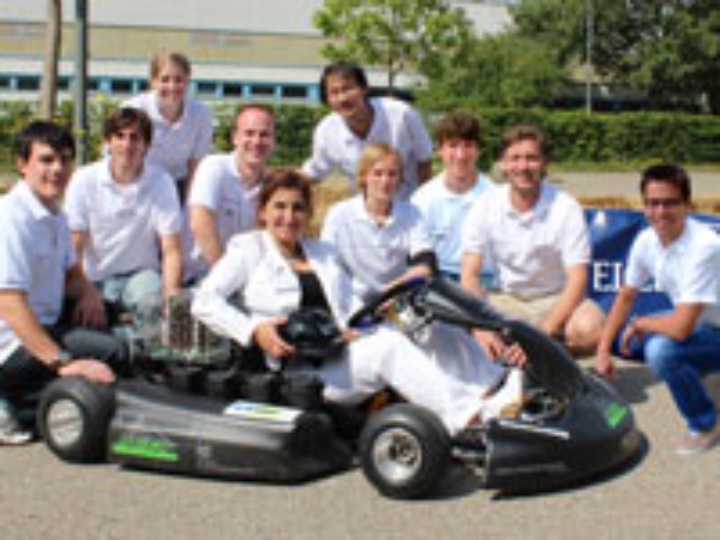 Personal Information
How can you charge a battery without having to plug it into the mains for hours on end? This is one issue pursued by Prof. Nejila Parspour in her research. Born in Iran, she studied electrical engineering at the Technical University of Berlin. After gaining her doctorate in 1995 and spending a period of study at Berkley, Parspour took up a position as project manager with YXLON X-Ray GmbH in Hamburg in 1996. In 2001 she moved to the Institute for Electrical Drives, Power Electronics and Devices at the University of Bremen, where she won 1st prize in the competition "Innovative ideas for companies of the future" in 2003 for developing wireless energy transmission systems designed for use in robots. A year later she received the Technology Award of the State of Bremen for her contribution to research into contactless charging facilities for electrically powered vehicles. Since October 2007, Parspour has been professor for electrical energy conversion at the University of Stuttgart where she has also been head of the newly founded Institute of Electrical Energy Conversion (IEW) since 2011. In 2012 she became one of the first three Übermorgenmacher ("Makers of the Future") in the competition of the same name held to mark the 60th anniversary of the state of Baden-Württemberg in recognition of her achievements in the field of the inductive charging of electrically powered vehicles.