Field of Work
The Institute for Computational Design (ICD) has two major research and teaching topics. One focus is the theoretical and practical development of generative, computer-based design processes with the related application technology. It is the goal to put integrative computer-based processes in architectural designs to use. One emphasis lies on the integration of interdependencies of shape, material, structure and environment in computational design for architectural design processes and also include biomimetic research.
A further area is the investigation of an integrative application of computer-based manufacturing processes in architecture. Focusing on robotic manufacturing of performative material and building systems and their testing in full-scale prototypes and test buildings.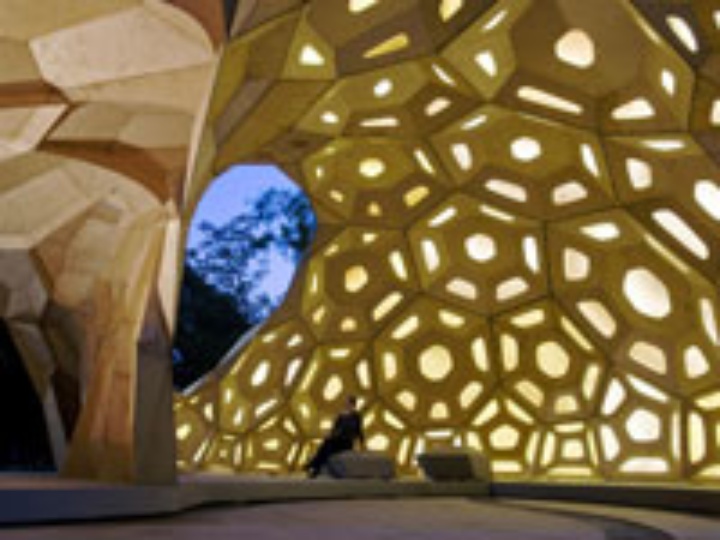 Personal Information
Achim Menges, who was born in 1975 in Mannheim, studied Architecture at the TU Darmstadt and at the Architectural Association in London, at which he taught until 2012. Menges was a professor at the University of Art and Design in Offenbach am Main from 2005 until 2008. He is a professor with leadership function at the University of Stuttgart since 2008. Menges was as a visiting professor among other institutions and countries in Great Britain and at the Harvard Graduate School of Design. He gained his practical experience as a partner at the architecture firm "Ocean North" from 2004 until 2009 and was listed as an architect by the Hessen Chamber of Architects. He has received numerous awards for his work, including the "Mies van der Rohe Award" in 2011 and the International Design Award in 2012.
The German Research Foundation (DFG) has awarded the 2023 Gottfried Wilhelm Leibniz Prize to Prof. Achim Menges. The award, which is endowed with EUR 2.5 million, is considered by many the most important research prize in Germany. Menges is being honored for his interdisciplinary research on digital planning methods and robotic manufacturing processes for construction, both of which make building more resource-efficient and sustainable.
Prof. Achim Menges is spokes-person of the Cluster of Excellence "Integrative Computational Design and Construction for Architecture" (INTCDC), which is awardet funding as part of the excellence strategy to strengthen top-level research in Germany for seven years.