Responsibilities and goals
The University of Stuttgart is a leading, technically oriented university (TU9), boasting a research spectrum that encompasses everything from the basic principles to applications. The responsibilities and goals of the Vice Rector for Research include:
First-class research environment and visible research success
Highly competitive fundamental research
Top performance in application-related research
Excellent professors and research scientists with outstanding work and career conditions and plenty of scope for creativity and independence in the field of research
Research cooperation and an interdisciplinary approach
Research infrastructure and E-Science services
Successes in the fields of research have an impact on all performance dimensions at the university, particularly in terms of what we can offer students and on the transfer of scientific and technological knowledge and information in the industrial sector and in wider society.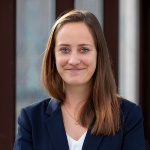 Dr.
Charlotte Toulouse
Personal Assistant to the Vice Rector for Research