AI has a wide range of potential uses. However, there are worries about the new technology as well as hopes. The topic has only just begun to gain the attention of the public. This was the reason behind the "Artificial Intelligence (AI) – what can it do, what should it do, what is it allowed to do?" discussion held as part of the Stuttgart Science Festival. Around 250 guests attended the event, including a lot of young people. Despite the hot weather, the White Hall of the New Palace was full, which a happy Dr. Simone Rehm, Vice Rector for Information Technology, mentioned in her welcoming address.
The vision of the University of Stuttgart is "Intelligent Systems for a Sustainable Society". In response to this, the university is organizing events in different formats which encourage interaction with the public. The podium discussion was held in cooperation with the university, the Ministry of Science, Research and the Arts of the state of Baden-Württemberg, the Cyber Valley and the City of Stuttgart as part of the Stuttgart Science Festival, with its tagline of "Smart and Clever".
Auf dem Podium
Theresia Bauer MdL, Minister of Science, Research and the Arts of the state of Baden-Württemberg.
Philipp Hennig, Professor of Machine Learning Methods at the University of Tübingen.
Cordula Kropp, Professor of Sociology at the University of Stuttgart with a focus on risk and technology research. She is researching the "sociology of algorithms".
Michael Resch, Director of the High Performance Computer Center Stuttgart (HLRS) and Head of the Institute for High Performance Computing.
Anja Lange: Moderator
What can AI do?
The first step was to list the possibilities and potential of AI. With AI, whole new methods and new scientific applications open up, for example in the areas of mobility, health, education or in art, explained Minister of Science Theresia Bauer. "We can also use AI to achieve greater participation in democracy."
Prof. Philipp Hennig also named a wide range of applications, from automated agriculture and personalized medicine to simulating and regulating fusion reactors. He is convinced that "the uses we have seen thus far in China and the USA are just the tip of the iceberg". Prof. Michael Resch also says that a lot of things are possible now. "Thirty years ago we didn't have the processing power we have today, nowadays practically everybody has their own supercomputer with their cellphone."
All those on the podium were in agreement that the use of AI can help to solve some of the pressing issues facing society, for example climate change. Furthermore, they say that AI only draws attention to certain problems, meaning that discrimination due to AI would become apparent.
Cyber Valley
When it comes to funding, the Baden-Württemberg Minister for Science disclosed that Germany and Europe do not enjoy the same level of funding as in China and the USA. "We need more funding from the federal government to create a force field, she claimed. "At state level we're taking charge of resources. With Cyber Valley, we have set up professorships, and we're building a creative environment which provides a space for flexibility and a willingness to experiment." She says that it's also important for the general public to be informed of what's going on. But money alone isn't everything, says Theresia Bauer, research also means the freedom to be able to try out different things.
She believes that Cyber Valley is a good thing, and the four podium guests called it a "clever idea". "I'm happy that we're talking about how we can create a responsible AI that takes the needs of the public into consideration. This is what distinguishes Cyber Valley from Silicon Valley in the USA", says the sociologist Cordula Kropp.
What is AI allowed to do?
"Are machines allowed to overrule people?" is a central question for Kropp. She believes that a human being should have the final say. However, that is often no longer the case, e.g. when it comes to steering vehicles or airplanes, which was shown by the tragic Boeing 737 air crash.
Prof. Phillip Hennig disagreed, saying that a human being doesn't always need to be the highest authority, citing medicine technology as his example. He claims that AI is often better than a human being at using imaging methods for e.g. recognizing tumors.
Though there is the fear that there are economic interests at play behind decision-making using AI, meaning that decisions could be manipulated by companies. Furthermore, the processes are so complex that in most cases it's hard to understand any more how decisions by machines are actually made, explained Prof. Michael Resch. This is causing a lot of people to feel uncomfortable.
Human or machine
What can a machine do and what can a human being do? "The machine obliges us to question the rules that we apply. This often makes it clear for the first time how our formal rules contradict one another", says Resch. He then ended the discussion by citing the philosopher Descartes, and raised the question of what it means for our self-image when we have a tool that is more rational than a human being, even though rationality is described as being a salient feature of being human. The sociologist Kropp pointed out that it was about more than rational logic by citing the mathematician and philosopher Blaise Pascal, who said "The heart has its reasons, of which reason knows nothing."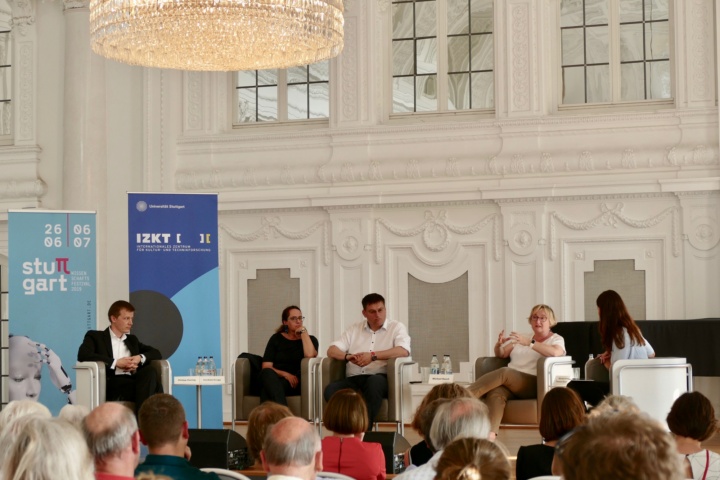 New formats for dialog with society
Those on the podium all strongly agreed that getting people involved was very important when it comes to AI and the developments that go with it. They believe that this is the responsibility of everybody, not just politicians, and that a debate between politicians, the people, science and business is essential. For this to happen, new formats need to be developed. "We need more places where scientists and regular citizens come together. We already have a lot, e.g. the field laboratories and different events, but we should step it up a gear", explained the Science Minister. Advisory boards with representatives of civil society such as at HLRS and Cyber Valley also have an important role to play, said Resch and Bauer. They also said that there needs to be talks with groups such as schoolchildren, e.g. representatives from the Fridays for Future movement, older people, men and women, all sections of the population. Society needs to ask itself what we want and what we don't want.