From large-scale quantum computer construction to small quantum sensors for medicine, from eco-efficient flying to virtual space travel: Minister President Winfried Kretschmann and Minister of Science Petra Olschowski were greatly impressed by the diversity of research and its potential for innovation and solving the societal challenges of the future. During their two-hour tour of the University of Stuttgart, scientists, students, and start-ups presented selected highlights from quantum research and aerospace engineering.
"Strategic sovereignty is key to Europe's future prosperity - this applies to the field of quantum technology just as much as it does to aerospace engineering," said Minister President Winfried Kretschmann. "Quantum technology will change our world, not only in science, but also in industry and everyday life. It enables entirely new applications - in the fields of artificial intelligence, medical diagnostics and logistics and materials research. Our goal is to create a powerful network of cutting-edge and applied research, established companies and start-ups that bundle competencies across disciplines in the field of quantum technology. The University of Stuttgart is a scientific pioneer in this area."
Kretschmann went on to emphasize that "Baden-Württemberg is also a key location for the aerospace industry. Our aerospace industry is a leader in this field, with both new and established companies showing a lot of inventive talent and boasting suppliers with a strong technology portfolio. Aerospace technology at the University of Stuttgart, also enjoys an excellent international position as a research location."
Petra Olschowski, who was visiting the University of Stuttgart for the second time as Minister of Science, was able to gain some first-hand experience of virtual space travel in the Soyuz simulator. She emphasized: "The University of Stuttgart plays a key role internationally, as one of the largest aerospace faculties in Europe that is responsible for training highly qualified specialists. The way students and researchers work together with great success on new and, above all, sustainable technologies is exactly what we need as a strong science and research location in Baden-Württemberg: From satellites for global communication to green mobility, all the way to ecological air travel - research is being conducted here on the relevant technologies of the future that will have a great impact on our daily lives." She also explained that the state will be placing greater emphasis on aerospace engineering in the future. "The university also plays a key role in the state's future aerospace strategy," she said.
Rector Prof. Wolfram Ressel emphasized that aerospace technology has a long tradition in Stuttgart, with test facilities that are unique worldwide. "Aerospace engineering is just one example of our outstanding interdisciplinary research. The Stuttgart Way promotes networked disciplines and opens up unique opportunities for us to jointly develop answers to important social questions - including for space travel."
Prof. Peter Middendorf, Vice Rector for Knowledge and Technology Transfer and Head of the Institute of Aircraft Design, added: "With our research on climate-neutral air transport, intelligent flying and sustainable space travel, we are addressing the key issues of the future and training the next generation of aerospace engineers at the University of Stuttgart, who will make a significant contribution to the implementation of these technologies."
Space travel research using satellites, control room and Soyuz simulator
Kretschmann and Olschowski experienced space travel first-hand - at least, virtually: The Minister of Science sat in the Soyuz simulator, a replica of the Soyuz cockpit, which realistically depicts movements in space. Students learn here, for example, how a spacecraft docks onto the International Space Station (ISS). Another possibility to be transported into space at the Baden Württemberg Space Center is offered by virtual reality goggles, which will also be used to train astronauts.
At the University of Stuttgart, young academics, who are also involved in student associations such as KSat or HyEnd, can gain project experience and carry out real space missions: During their studies, students learn how to build and operate space experiments and even entire satellites. One of these is the small satellite "Flying Laptop", developed by the Institute of Space Systems (IRS), together with students and doctoral researchers. Its mission: Teaching, testing new technologies, and scientific observation of the Earth on various wavelengths. The IRS communicates with its satellites via the control room, and - using artificial intelligence methods, for example - operates its own missions to test automated operation, which would maximize the satellites' utilization time.
Aviation using electric, wind and solar power
The field of aerospace engineering focuses on other types of aircraft. The eFliegen BW test field was created under the direction of the University of Stuttgart and with state government funding to ensure realistic testing of electric and autonomous flying. Kretschmann and Olschowski learned how tests by universities, research institutions and companies are conducted here.
The two politicians were also shown that many projects by researchers and students are pushing sustainability in aerospace engineering, for example the record-breaking e-Genius aircraft, a research platform for electric and hybrid-electric drive systems, and the InVentus Racing Team's headwind vehicle, which features a wind turbine instead of an engine. The emphasis on transferring theory into praxis also plays a key role: The start-up Roboloon presented its prototype of a solar-powered airship drone. This is intended to automate inspections of infrastructure such as railroad lines or power grids, and ensure that they are emission-free.
Excellent research with state support
"We conduct excellent socially relevant research, not only in the field of aerospace engineering, but also in quantum science," said Ressel. "We are glad that the state of Baden-Württemberg supports this, for example through the Center for Integrated Quantum Science and Technology IQST."
From the laboratory to the application: Quanta at your fingertips
In the field of quantum technology research, Kretschmann and Olschowski were shown a laboratory where a quantum computer is being built, which users will be able to access using the portal "The Quantum Länd". The fields of quantum computing and sensing offer excellent basic research, as well as links to practical aspects of engineering. This ensures that the results can be applied in practice and that they are marketable as pioneering innovations.
Examples include fingernail-size quantum processors based on photonic chips or quantum sensors that deliver precision in mobility, environment and sustainability, and biomedical engineering. The world's first portable electron spin resonance spectrometer, which will enable real-time blood diagnoses in doctors' offices, is to be commercialized this year via a spin-off from the University of Stuttgart.
"The University of Stuttgart is a central location for quantum science in Baden-Württemberg and, thanks to its expertise, it is also closely involved in the creation of our state-wide quantum strategy. The potential applications of the technologies presented today are truly impressive," said Minister Olschowski.
Media contact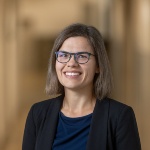 Lydia Lehmann
Deputy Head of University Communi­ca­tions and Acting Press Spokesperson
Hochschul­kommunikation
Keplerstraße 7, 70174 Stuttgart