Mycomerge is a winner of the Green Concept Awards 2022
The students Mai Thi Nguyen and Daniela Solueva are awarded one of the Green Concept Awards 2022. Their project was developed during the Seminar "Material Matter Lab/ Material and Structure", offered by BioMat at the Institute of Building Structures and Structural Design (ITKE) at the University of Stuttgart.
This study is showcasing the load-bearing capacities of mycelium, a living fungal organism, when reinforced with bio-based materials and specifically natural fibres, in an alternative merging design approach. The proposed design method aims to guide mycelium's growth on a natural rattan framework that serves as a supportive structure for the mycelium substrate and its fibre reinforcement. The rattan skeleton is integrated into the finished composite product, where both components merge, forming a fully biodegradable unit. The occurring multi-layer biobased component can support a load beyond 20 times its own weight. An initial physical prototype in furniture scale is realized. The prototype will be exhibited at the Special Exhibition MCBW, which will take place from 14 to 22 May at Viktualienmarkt (Frauenstrasse 8) in Munich.
Further Information about Mycomerge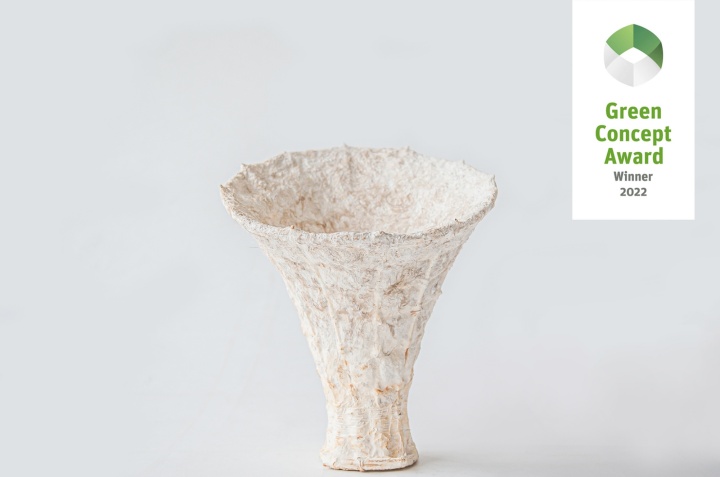 LightPRO Shell is a winner of the Green Concept Awards 2022
The project LightPRO Shell (BioMat Pavilion 2021) was developed by BioMat team and students in summer semester 2021 and is linked to the LeichPRO research project. The LightPRO Shell Pavilion is an active-bending structure made of natural fibre bio-composite profiles. It is a 10-meter span canopy that demonstrates the capabilities of a newly developed material: 'bamboo-like' profiles made of natural flax and hemp fibres. The profiles are completely biodegradable and can be used in a variety of structural applications or ephemeral structures. This innovative structure is demonstrating a sustainability approach towards future architecture. Its purpose is to introduce alternative sustainable materials for structural applications to the market.