The University of Stuttgart's MobiLab Real-World Laboratory aims to make Campus Vaihingen car- and emission-free. Research areas include autonomous vehicles and inductive charging while driving. In addition, MobiLab is helping to ensure that the University of Stuttgart will also be climate-neutral in the area of mobility and transport by 2030. In a meeting with representatives of the Ministry of Science, Research, and the Arts (MWK) Baden-Württemberg, Professor Wolfram Ressel, Rector at the University of Stuttgart, Jan Gerken, Chancellor at the University of Stuttgart, and project leader Professor Markus Friedrich, together with other representatives of the MobiLab team, presented the current status of the project.
Summarizing MobiLab's goal, Professor Ressel says: "We want to make the campus suitable for use by autonomous shuttles, e-scooters, bicycles and pedestrians, as well as creating an attractive place to spend time and leaving the cars off campus." He went on to say that the project acts as an interface for all mobility planning at the University of Stuttgart. During the live presentation, Clemens Benz, head of the MWK's "Research and Medicine" department, was impressed by the goals achieved so far by the University of Stuttgart and is looking forward to further projects, especially the promotion of cycling.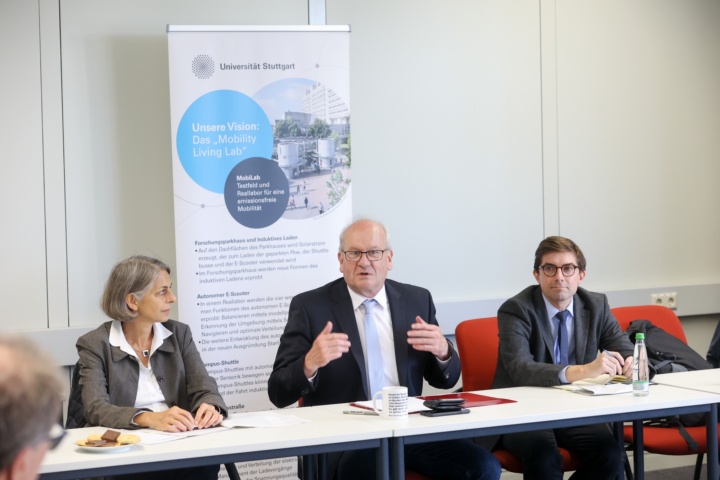 The milestones reached by MobiLab in 2022
The major milestones achieved by MobiLab this year include the further development of the autonomous e-scooter prototype, which can now make turns and detect obstacles on its own, and the commissioning of an outdoor test track for inductive charging of vehicles while driving. Furthermore, the researchers have also purchased two autonomous CampusShuttles. One shuttle, the "Uniflitzer," is scheduled to begin test operations in spring 2023, while the second shuttle will serve as a teaching and research shuttle, primarily for student training. In the summer semester of 2022, the project participants conducted a university-wide survey of students and employees on mobility behavior.