As part of his summer tour, Minister-President Winfried Kretschmann was a guest at the University of Stuttgart on Tuesday, August 22. He had an interest in the Perosol start-up, which is doing research on perovskite solar cells at the Institute for Photovoltaics (IPV). This type of solar cell is an alternative to the silicon solar cell, which has now reached its maximum level of efficiency.
Minister-President Winfried Kretschmann emphasized that he was very impressed and, after his tour of the laboratories where the research on perovskite solar cells is conducted, paid respect and tribute to the researchers at the Institute for Photovoltaics (IPV). "Currently, we are experiencing a world-wide solar revolution. Everybody wants solar cells – on the roof, on the facade, on the field, and in open spaces. This is exactly what we need in our fight against global heating," Kretschmann said.
Perovskites are an ideal alternative to solar cells: there are many and in many places, and you can also produce them synthetically, as is done at Perosol. By founding Perosol, Dr. Claudiu Mortan from the Institute for Photovoltaics and Institute Director Prof. Michael Saliba established the first German start-up that is doing research on these innovative solar cells. Their intention is to provide a way for the perovskite solar cells to be developed, from research to industrial use. "At the University of Stuttgart, we are developing innovative solutions to the challenges of the future. We are proud when our researchers and students turn their work into a start-up to transfer research findings into practice," said Prof. Wolfram Ressel, Rector of the University of Stuttgart.
The first German start-up for perovskite solar cells
In the field of renewable energies, research on materials, components, and systems in the field of semiconductor technology is one of the IPV's top priorities. Perovskite solar cells impress with their high efficiency, their processing can be carried out at low temperatures, and: the potential applications of the ultra-thin, 3D-printed cells made from perovskites are impressive. For example, the flexible solar cells can be attached to buildings, e.g. to facades or balconies, incorporated into clothing, or integrated into shading systems. According to Michael Saliba, they can generate electricity when used on window surfaces. He pointed out that there is still great potential for solar panels on roofs, which would make many solar panel fields redundant.
From digital price tags in stores to satellites in space – the more we think about it, the more possible applications for solar cells we find," Claudiu explained. The vision of the future that he shares with Michael Saliba: production, in a printing process, several kilometers of the flexible perovskite solar cells in one day. The start-up founders very much appreciate the research environment at the University of Stuttgart with all its opportunities for cooperation, such as working with the colleagues from aerospace technology or mechanical engineering.
From the store shelf to space
The development process toward long-lasting perovskite solar cells that can be used in space as well as on Earth, into which the young scientists and researchers at the institute are integrated, leads to the perovskite-silicon tandem solar cell as an intermediate product, Saliba pointed out, who is one of the leading scientists in perovskite research worldwide. "To produce a tandem cell, a perovskite cell is applied on the silicon cell. The silicon ensures optimum energy yield in the red range of sunlight, while the perovskite cells absorb more in the blue range," Saliba explained.
"Perosol shows how important innovative start-ups are for the transformation of our economy," Minister-President Kretschmann emphasized and assured that he, as the head of government in Baden-Württemberg, would make sure that there are sufficient budget funds available for innovation projects. Unfortunately, there is sometimes a "lack of spirit" from industrial partners when it comes to supporting start-ups in the high-tech sector, Kretschmann said. With regard to the necessary machinery, Perosol expects investment costs of no less than EUR 30 million. For the entire team at the IVP, the Minister-President's visit was a special experience. "It really is an honor and a huge compliment that the Minister-President is interested in our research," Saliba said.
On October 4, 2023, the IVP and the Center for Solar Energy and Hydrogen Research Baden-Württemberg (ZSW) will be hosting the 2nd Perovskite Congress Baden-Württemberg at the University of Stuttgart.
Expert Contact:
Dr. Claudiu Mortan, University of Stuttgart, Institute for Photovoltaics, manager of the Perosol start-up, phone: +49 711 685 67151, email
Prof. Michael Saliba, University of Stuttgart, Institute for Photovoltaics, phone: +49 711 685 67140, email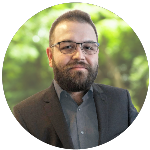 Claudiu Mortan
Dr.-Ing.
Manager Perosol Start-up Project