This study program is not offered in English. For further information please visit the
German version
of the study program.
The Master's studies go in depth into three specializations: biomaterials and bionanotechnology, pharmaceutical and industrial biotechnology, and biological systems. Teaching and research subjects include among others:
Cellular signaling processes including tumor genesis and therapy
Neurobiology of learning
System biology and bioinformatic metabolism modeling of biological (nano) structures such as enzyme or pore complexes and plant viruses including functional biohybrid materials
Production of biogenic active substances
Organismic and cell biology are closely linked to the most advanced technologies such as large-scale fermenter syntheses, laser scanning microscopy, electron tomography, single molecule spectroscopy, protein design and computer-aided systems analytics.
Eager for a future in demanding research occupations, you want to learn how to do scientific work. This means you want to discover new things, understand them, classify them and responsibly develop them. This can be an entire life's work.
Therefore, you need to have a strong drive to learn and perform, as well as a high degree of self-reliance and motivation. You need staying power and can tolerate stress, but above all, you are curious and creative, want to question accepted ways and systematically explore the new. You can acquire fundamental knowledge not only in the life sciences but also in mathematics, chemistry, physics, computer science and process engineering – and you enjoy analyzing complex relationships and formulating them succinctly.
M.Sc. Technische Biologie (Technical Biology) is a program within the natural sciences that is singular within Germany and offers an interdisciplinary profile, which concentrates on current international challenges in research and industry. Modern biosciences, physics and chemistry collaborate closely with engineering, materials and systems sciences as well as bioprocess engineering – a unique bridging between biology and technology. The M.Sc. course is therefore based on a profound fundament in natural and mathematical sciences, knowledge and competences on bioprocess-relevant engineering, and a thorough understanding of fundamental biology, living cells and organismic systems, as it is treated in the B.Sc. course before. Applicants having graduated in related B.Sc. programs of other universities are very welcome; they might have to take part in additional courses in fields not covered in their records so far.
Since biology develops into a quantitative discipline to an increasing extent, with important roles of data analysis and modelling, this may include training of appropriate mathematical procedures and methods for data analysis and modelling of biological mechanisms. The M.Sc. course in Technical Biology develops skills and expertise for both high-ranking industrial jobs and scientific work including Ph.D. (Dr. rer.nat.) projects. Three special areas are deepened in modules containing lectures, seminars, scientific talks and two- to three-week lab research courses:
Biomaterials & Nanobiotechnology,
Pharmaceutical & Industrial Biotechnology,
Biological Systems.
These open up research areas such as cellular signalling including tumour development and therapy, tissue engineering, neurobiology, systems biology of bacteria, animals and plants, simulation methods and modelling, biological (nano-)structures including enzyme and pore complexes, plant viruses and smart biohybrid materials, biological materials formation and biophysics, production of biologicals and pharmaceuticals, interactions and potential novel technical combinations of biomolecular building blocks and metabolic pathways (synthetic biology).
Organismic and cell biology profit from the availability of modern analytical technologies such as live cell imaging by way of laser-based methods (within the SRCSB: Stuttgart Research Center Systems Biology), multiscale materials characterization by electron microscopic special procedures (on the platform AMICA: Advanced Materials Innovation and Characterization), single molecule spectroscopy, industrial scale fermentation, protein design and artificial intelligence-based systems analysis.
The study program is embedded in an experienced engineering-oriented environment at the University of Stuttgart and the Cluster of Excellence "Data-Integrated Simulation Sciences". The collaboration platform "Projekthaus NanoBioMater" interconnects it with institutes within chemistry, materials sciences and process engineering. These networks enable interesting one-of-a-kind options for special interdisciplinary projects available in Stuttgart only.
Industrial internships and studies abroad are highly recommended and supported. To this end, numerous collaborations with national and international institutions exist. The Technical Biology program is well-known and recognized in industry and scientific institutions because the M.Sc. course qualifies for biological, medical and biotechnological research as well as for industrial applications and systems sciences. Many M.Sc. students, therefore, decide for performing a Ph.D. (Dr. rer. nat.) project after their graduation
Studying abroad: what opportunities does my study program offer?
Our students are encouraged to participate in internships and studies abroad, which may be conducted in companies and various institutions for practical work experience, or in universities all over the world. This includes M.Sc. theses in collaboration with research teams in Stuttgart, with numerous international partners available. Courses and examinations will be accredited for the B.Sc. in Technical Biology. The International Centre IZ and the academic student counsellors provide support upon planning, organizing, preparation of learning agreements and transcripts of courses, and accreditation.
Within the M.Sc. program, 20-40 ECTS may be acquired in a typical stay abroad, most preferably throughout the 3rd and 4th term. In addition to own preferences, the ERASMUS partner universities of all faculties will accept students from our course of studies for financially supported international studies. Reports on the experiences during project work and studies abroad are available at the Degree Program Manager of Technical Biology.
Accreditation

The quality of this degree program has been certified.
Contact for further questions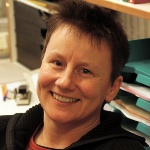 Christina Wege
Prof. Dr. (apl.)
Head of Research Unit Molecular & Synthetic Plant Virology
Coordinator NanoBioMater & Students' Advisor