This study program is not offered in English. For further information please visit the
German version
of the study program.
What makes the research-oriented Master's in Romance Studies program stand out is the way it links French and Italian. The study program rests on the pillars of linguistics, literature, humanities and language practice. Key qualifications round out the degree program.
The studies are highly practically-oriented. For example, in the major subject you will learn to implement your knowledge in concrete projects. In addition, you can do internships which are credited toward your studies.
Knowledge of the French language (level B1) is a prerequisite for enrolling in the program. Italian can be learned starting with the first semester. If taken as a minor subject, knowledge of both French and Italian is required for admission.

Candidates for the programs should:
Be interested in language and culture
Enjoy reading and writing, analyzing and doing research
Work independently, engage actively in research
Present research results confidently in public
Be prepared for a stay abroad
Do internships and take career-preparatory courses while studying
Accreditation

The quality of this degree program has been certified.
Contact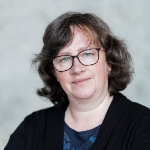 Dr.
Beatrice-Barbara Hujjon
Program Manager of Romance Linguistics