This study program is not offered in English. For further information please visit the
German version
of the study program.
Modern-day mechanical engineering sees itself as an engineering science that is concerned with the fundamentals as well as the development and application of methods, technical processes, technologies, facilities, tools, machines, and systems. The Mechanical Engineering Master's degree program is primarily aimed at Bachelor's graduates in Mechanical Engineering, Automotive and Engine Engineering, and Technology Management.
The first two semesters are a combination of in-depth fundamentals of the engineering sciences and two areas of specialization. You can select your specialization modules from approx. 40 different subjects. With the industrial internship and the research project in the third semester, students deepen their practical experience and scientific knowledge. The fourth semester is devoted to the Master's thesis, which is written in one of the two areas of specialization.
You should generally be interested in technical problems and how to solve them. In the process, you will apply and implement your expertise and external skills. In addition, the following skills are helpful in ensuring that you will enjoy and succeed in the study of mechanical engineering:
The ability to abstract, be creative, and think analytically in order to be able to solve specific problems in theories.
The ability to work in a team and to communicate, so that you can work on complex tasks in an interdisciplinary team with divided responsibilities.
Not to shy away from English, since specialist literature is often in English.
Graduates of the Mechanical Engineering M.Sc. program have excellent career prospects. Industry is increasingly demanding highly qualified engineers with a broad and profound basic knowledge.
After graduation, the following professional areas, for example, will be open to you:
Research
Development
Design and construction
Project management
Testing
Sales
Manufacture and production
Quality management
Technical administration
Company management
Possible sectors range from conventional systems and mechanical engineering to medical engineering and precision engineering to energy technology and process engineering.
Application and admission: how do I get a place at the University?
---
Admission Requirements
Completion of a Bachelor's degree (or an equivalent degree) program in Mechanical Engineering that comprises a minimum of six semesters, or completion of a study program closely related in content and with eligible examination results from a German university or equivalent higher education institution, university of applied sciences, cooperative state university, or cooperative education institution. Alternatively: An equivalent degree with eligible examination results from a higher education institution abroad.
The knowledge and skills obtained in the degree program must be equivalent to the Mechanical Engineering B.Sc. program at the University of Stuttgart in terms of scope and requirements.
The admission procedure is divided into two stages:
In the first stage, the subject-specific suitability for the Mechanical Engineering M.Sc. program is assessed. For this purpose, admission points are awarded, which are obtained via the subject-specific skills and the final grade of the Bachelor's degree. The maximum number of points possible is 120.


| | |
| --- | --- |
| Admission points: | Subject-specific suitability: |
| < 80 admission points | Not suited for the study program in terms of qualification and subject-specific skills. |
| ≥ 80 admission points | |
| ... and ≤ 99 admission points | Selection interview, admission with conditions |
| ... and > 99 admission points | Suited for the study program in terms of qualification and subject-specific skills. |

Applicants who have achieved between 80 and 99 admission points in stage 1 will be invited to a selection interview in the second stage of the procedure in order to determine whether they are professionally qualified for the study program. In individual cases, admission with conditions may be granted instead of the selection interview. Missing knowledge and competencies can then be acquired subsequently within the framework of so-called "additionally required modules". Applicants from higher education institutions or from universities abroad, in particular, should expect that they may be required to take additional modules.
For complete information on the admission procedure and the criteria for determining subject-specific suitability, please refer to the Admissions Regulations of the University of Stuttgart. They are published on the German website.
Language Requirements
Studying at the university requires sufficient German language skills. International students must therefore provide appropriate proof. It is also possible to complete a language course at the university.
Application period for the

| | |
| --- | --- |
| winter semester: | May 15 – July 15 |
| summer semester: | December 1 – January 15 |
How is the program structured?
The Mechanical Engineering M.Sc. program at the University of Stuttgart is based on the six-semester Mechanical Engineering B.Sc. program at the University of Stuttgart, or an equivalent Bachelor's degree program at another higher education institution.
The study program takes four semesters and can be started both in the winter semester and in the summer semester. The curriculum includes compulsory modules, elective modules, a term paper, laboratory courses, an industrial internship, and a final Master's thesis.
Students can choose from approx. 40 application- or method-oriented specialization modules, from which they must select two. The following groups are offered:
Product Development and Design Technology
Materials and Production Engineering
Micro-Engineering, Apparatus Technology and Technical Optics
Energy Technology
Automotive and Engine Engineering
Technology Management
Mechatronics and Engineering Cybernetics
Process Engineering
In the groups, you will acquire in-depth technical or methodological expertise and gain insight into relevant projects in research and practice.
The term paper and the Master's thesis foster the ability to work independently on scientific topics and solve relevant research problems.
During their Master's degree studies, students must complete a 12-week industrial internship in Germany or abroad. The internship provides insight into development, production and manufacturing technology as well as operational processes. Another aspect lies in the sociological side of operations.
Accreditation

The quality of this degree program has been certified.
Contact for further questions on Mechanical Engineering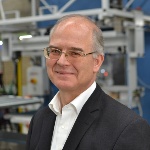 Jens Baur
Dipl.-Ing.
Head of Department Teaching and student affairs | Subject advisor mechanical engineering
Christine dos Santos Costa
Dipl.-Ing.
Head of Mechanical Engineering Center - contact person for general questions about study programs in the field of mechanical engineering