This study program is not offered in English. For further information please visit the
German version
of the study program.
This study program serves as a scholarly, research-oriented education. Using theoretical models as well as practical research, it ties together traditional history that captures human thinking and action in time and space. In this way, hands-on work with sources as well as critical examination combine with pertinent interpretation of historical research.
The study program is divided into a general history part and an elective object-oriented segment. What makes it special is the era-spanning and subject-centered way in which the module is structured.
The prerequisite for acceptance to the Master's study program is a Bachelor's degree (or equivalent) with a history major or minor or in a related subject. Naturally, you may already apply even shortly before earning your B.A. degree.
To study history means setting out on a search for Europe's cultural roots. Since the handling of source materials from the various eras is of key importance, you must furnish proof of mastery of the German and English languages. Also required are either having passed the qualifying examination in Latin or university-tested knowledge of Latin.
Accreditation

The quality of this degree program has been certified.
Contact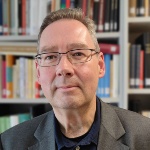 Roland Gehrke
apl. Prof. Dr.
Studiengangsmanager Geschichte