This study program is not offered in English. For further information please visit the
German version
of the study program.
This two-year Master's degree program in French (Teaching Degree) covers the subject areas of French linguistics, literature, cultural studies, as well as speaking practice and subject-specific pedagogy. Different options for designing the course of studies make this a flexible study program.
A comprehensive module combining linguistics and literature serves to deepen relevant contact and theories. This module is complemented by intensified regional cultural studies and immersion in the language. Subject-specific pedagogical content and a school internship semester help prepare the prospective teachers to approach teaching French in school classrooms.
Prospective students should:
be interested in languages and culture
enjoy reading, writing and analyzing
develop individual initiative, work independently and with precision
be able to present results achieved in public
be prepared for a stay abroad.
Contact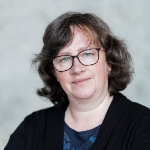 Beatrice-Barbara Hujjon
Dr.
Program Manager of Romance Linguistics