The new master's degree program English and American Studies / English Linguistics replaces the previous master's degree program in English Studies (Anglistik). The study program is divided into two parts, of which a student must choose one at the beginning of the course:
"English Linguistics" and "English and American Studies".
These two parts reflect the institutes and departments which English Studies at the University of Stuttgart covers:
The Department of American Literature and Culture and the Department of English Literatures, which focus on research into canonical texts as well as on issues regarding post-modernism, post-colonialism, interdisciplinary cultural studies and media studies.
The Department of English Linguistics: Research in the Department of English Linguistics focuses on phonology, syntax, semantics/pragmatics, and psycholinguistics.
A bachelor degree in English philology, literary studies, or linguistics
A deep interest in literary studies, cultural studies, or linguistic research
The intention to carry out your own research project in either one of the two sections
Traditionally:
Journalism
Publishing
Cultural institutions (museums, libraries)
Currently:
Corporate communication: Public relations (PR), marketing, and more
Human resources management
Consulting
Studying abroad: what opportunities does the University of Stuttgart has to offer?
Are you interested in going on exchange for a semester or two? Or would you rather do some research or attend a language course? Have you ever thought of joining a Summer School or planned an internship abroad? Whatever you have in mind for your exchange, the International Office will help you make your stay abroad an unforgettable experience. The first step will be to sign up online for our information sessions at the International Office that are offered on a regular basis. We look forward to your registration!
Studying abroad


information sessions, partner universities, language requirements, application deadlines, scholarships
Application and admission: how do I get a place at the University?
---
Admission Requirements
A first higher education degree in a bachelor's degree program (or equivalent) of at least six semesters in English or American Studies or in a closely related study program, with the average grade "good" (2.5) or better.
The complete information on the admission process and the criteria for the assessment of professional suitability can be found in the admission regulation.
Language Requirements
The study program is taught in English. Therefore, you must be able to show proof of proficiency in English at least up to C1 level:
by showing a recognized certificate, such as e.g. a TOEFL score of 95 or IELTS Band 7, or
by completing a bachelor's degree program taught in English lasting at least six semesters
Restricted admission (limited number of places)
Application period for the

winter semester:
May 15 – July 15

The winter semester starts in October.

summer semester:
December 1 – January 15

The summer semester starts in April.
How is the program structured?
Since the master's degree program "English and American Studies - English Linguistics" affords a choice of either the profile English and American Studies or English Linguistics you are technically making this choice by your first exam registration on C@MPUS for a given module. However, it would be advisable to let the degree manager, Thomas Wägenbaur know even before your application what profile you would be choosing.
The Module Guide describes the modules and the required courses belonging to the module. The Module Guide (also called module handbook) is published on the Campus Management System C@MPUS [de].
C@MPUS


Please click as follows: choose the degree and click on the book behind the study program's name.
Important Websites
Which institutes are involved in this study program?
Accreditation

The quality of this degree program has been certified.
Contact for further questions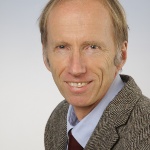 Thomas Wägenbaur
Dr.
Study Programme Manager Anglistics/English