This study program is not offered in English. For further information please visit the
German version
of the study program.
The State Examination for Teachers (GymPO I) study program leading to an English degree has linguistic, literary, and cultural study components. The section on Anglo-American literature, in addition to the study of English language canonical literature, engages with current themes of postmodernism and post-colonialism as well cultural studies and media studies.

The English linguistics section promotes immersion in the language but also provides insight into the core areas of linguistics. It further takes on the linguistic history of English and the phonetic and cognitive aspects of language acquisition.
A genuine interest in the English language, literature, and culture
Readiness to keep improving the spoken and written language
Enjoyment in exploring complex areas of literary, cultural, and linguistic science.
Contact for further questions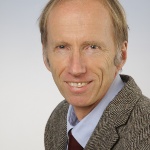 Dr.
Thomas Wägenbaur
Study Programme Manager Anglistics/English