This study program is not offered in English. For further information please visit the
German version
of the study program.
The Master's program covers Anglophone literature and the English language in a global context. Students in the program deepen the knowledge acquired in the subject areas of linguistics, literature and cultural sciences during the Bachelor's program, and they learn how to independently work on scholarly questions.
In addition, subject-specific study contents and a school internship semester prepare future teachers how to approach teaching English in the school classroom.
A genuine interest in the English language, literature, and culture.
Very good knowledge of the language and being prepared and motivated to keep improving it.
An inquiring mind, ready to work in complex areas of literature and linguistics.
Contact for further questions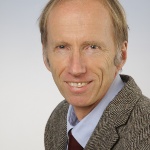 Thomas Wägenbaur
Dr.
Study Programme Manager Anglistics/English