From winter semester 2020/21 the master's program English M.A. will be replaced by the new master's degree program English and American Studies / English Linguistics.
In the first year of studies, the program comprises linguistic, literary, and cultural study components.
Aside from research on English language canonical texts, the English language literary studies section deals with questions of postmodernism, post-colonialism, interdisciplinary cultural studies and media studies.
The English language linguistics segment focuses on the core disciplines of linguistics: phonetics, syntax, morphology, and semantics. In addition to language history, it also concerns itself with language acquisition in its phonetic, cognitive, and neurolinguistics aspects.
The studies assume:
A deep interest either in literary studies, cultural studies or linguistic research
The intention to carry out your own research project in either one of the two sections
Traditionally:
Journalism
Publishing
Cultural institutions (museums, libraries)
Currently:
Corporate communication: Public relations (PR), marketing, and more
Human resources management
Consulting
Further job descriptions and job information can be found in the BERUFENET database of the Federal Employment Agency:
Vocational orientation and career guidance for students of the humanities and social sciences can be found at:
Studying abroad: what opportunities does the University of Stuttgart has to offer?
Are you interested in going on exchange for a semester or two? Or would you rather do some research or attend a language course? Have you ever thought of joining a Summer School or planned an internship abroad? Whatever you have in mind for your exchange, the International Office will help you make your stay abroad an unforgettable experience. The first step will be to sign up online for our information sessions at the International Office that are offered on a regular basis. We look forward to your registration!
Studying abroad


information sessions, partner universities, language requirements, application deadlines, scholarships
Application and admission: how do I get a place at the University?
From winter semester 2020/21 the new master's degree program English and American Studies / English Linguistics replaces the previous master's degree program in English Studies.
How is the program structured?
The Module Guide (also called module handbook) describes the modules and the required courses belonging to the module. It is published in the Campus Management System C@MPUS.
Important Websites
Which institutes are involved in this study program?
Accreditation

The quality of this degree program has been certified.
Contact for further questions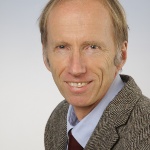 Thomas Wägenbaur
Dr.
Study Programme Manager Anglistics/English