COMMAS is about the development and implementation of numerical methods based on the principles of mechanics, mathematics and computer science. Students learn different practical and powerful approaches to model, understand and predict responses of complex materials and structures encountered almost all engineering disciplines.
The entire master's program can be studied in English and takes two years (four semesters) including a master thesis. COMMAS has been designed to be a very compact graduate program. It attracts also people who already have finished other studies to gain expertise in the promising field of Computational Mechanics of Materials and Structures.
Application and admission: how do I get a place at the University?
---
Admission Requirements
General admission requirements:
A school certificate authorizing the holder to enter a university or an authorization regarded as equivalent by the board of examination of COMMAS
G.C.E (O+A-Level), Baccalaureate, Lise Diplomasi, Apolyterion, Maturitaet, High School, Diploma, or other
A Bachelor degree in Engineering or Natural Science or a related field, or a "Diplom" degree (U, FH, BA), or, a "Vordiplom" and examinations in additional core courses
Test of English proficiency
Applicants from China, India, Iran, Mongolia, and Vietnam please see page country specific requirements for further specific requirements
Restricted admission (limited number of places)
Applicants are evaluated by the COMMAS admission committee on the basis of their prior performance and professional promise. While high academic achievement does not guarantee admission, COMMAS expects such achievement or other persuasive evidence of professional promise.
The complete information on the admission process, required knowledge of English, and the criteria for the assessment of professional suitability can be found in the admission regulations.
Language Requirements
Very good knowledge of English, non-native speakers need a language certificate (TOEFL IBT 79 or IELTS 6.0).
Application period for the winter semester: November 15 – February 15
The winter semester starts in October.
How is the program structured?
The first semester is dedicated to the compulsory courses (continuum mechanics, material theory, numerical methods, scientific programming, engineering materials). During the following semesters students choose courses from wide range of electives. A special part of the curriculum is the one-week summer school which is given by internationally known researchers usually invited from other universities. This aims to introduce students to current developments in computational mechanics. The last semester is devoted to the master thesis.
The Module Guide describes the modules and the required courses belonging to the module. The Module Guide (also called module handbook) is published in the Campus Management System C@MPUS [de] (please click as follows: choose the degree - click on the book behind the study program's name).
Accreditation

The quality of this degree program has been certified.
Contact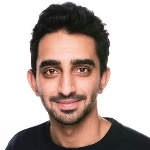 Hamza Khurshid
M. Sc.
Doctoral Researcher