This study program is not offered in English. For further information please visit the
German version
of the study program.
Aerospace engineering studies are offered as a consecutive Bachelor's of Science study program. Students are trained as engineers capable of solving the continually growing interdisciplinary challenges of high tech aerospace engineering and adjoining disciplines. In the course, students learn how to apply the most advanced methods.
The six-semester long Bachelor's study emphasizes the teaching of foundational and state-of the art knowledge in the aerospace field. Students learn how to work independently, which is of value for operating flexibly in demanding professional settings. Having this skill opens a variety of professional opportunities in other fields that also require use of the latest scientific methods and technologies.
Knowledge of mathematics and physics
Interest in technical problems
Being prepared to learn foreign languages
Accreditation

The quality of this degree program has been certified.
Contact for further questions
Dr. rer. nat.
Michael Reyle
Academic Employee, Program Manager Aerospace Engineering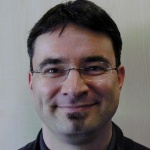 Dr.-Ing.
Christian Koch
Academic employee, Academic advisor, deputy head of the institute