DEGREE
Bachelor of Science
APPLICATION DEADLINE
July 15

STANDARD PERIOD OF STUDY
6 Semester
This study program is not offered in English. For further information please visit the German version of the study program.
The continuing digitalization in all areas of work and life results in an enormous amount of data. To manipulate this data to make it useful for businesses and organizations to profit by is the data scientist's job.
Data scientists analyze predetermined goals so they can derive the IT and analytical architectures needed for achieving them. They also assess the potential inherent in different data sources for developing suitable analytical methods and data management concepts. Once enrolled in our Data Science program you will acquire basic knowledge needed to work effectively in the areas of data analysis and integration, data management and quality, knowledge management and information presentation.
Affinity for mathematics –in particular, enjoying its formal-abstract methods and logical thinking required
Interest in problem-solving strategies and programming
Interest in understanding correlations
No aversion to working with computers
Good communication ability and open-mindedness
Good knowledge of English and German
While previous programming experience is not required, it will make for an easier start

Accreditation
The quality of this degree program has been certified.
Contact for further questions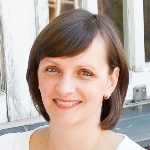 Katrin Schneider
Dr.
Program Manager, Department Manager & Erasmus Coordinator of the Computer Science Department