A reliable partner for knowledge and technology transfer
Some 3,000 scientists are doing research in the University of Stuttgart's approximately 150 institutes. Our researchers acquire advanced knowledge and develop many pioneering technologies that can be put to use in meeting critical challenges facing society, in producing goods more efficiently and sustainably, and for making people's lives more comfortable.
The University employs various means for sharing this enormous store of knowledge and technology with society. With a locally grounded tradition of top-notch researchers and visionary inventors in all fields, the University serves and strengthens the region, facilitates societal reflection, and is a potent fount of innovations.
If you think you can thrive in this environment, contact us and we will provide specifics on what kind of support you can expect from us. So, for example, you might contact us about licensing innovative products and services from the University. Our Technology Transfer Team is expert at finding attractive individual solutions that engender reliable, long-term partnerships.
According to the state of Baden-Wuerttemberg's university law, along with teaching and research, the transfer of knowledge and technology constitutes a key mission of the state's universities.
Knowledge transfer takes various forms, not only in the course of teaching, but also directly through research and cooperation projects or in the context of professional exchanges between scientists.
At its core, technology transfer means exploiting
Know-how (e.g., non-patented processes or formulations)
Software
Inventions
Patents
The Technology Transfer Office in Research and Transfer Division 1 is a central service function set up by the University of Stuttgart to log, manage, and commercialize inventions, trademarks and other intellectual property such as software. Its menu of services ranges from timely consultations exclusively for the University's own inventors to negotiating licensing agreements. This office works closely at every stage with researchers, institutes, and internal as well as external parties.
A centralized service function contactUS! – Business Meets Science helps businesses as well as University institutes and facilities by intermediating reciprocal contacts.
If you want to start your own business with your invention, consult with the University of Stuttgart Technology Transfer Initiative on any and all questions relating to launching your startup.
Many promising research achievements remain unexploited commercially despite their high innovation potential and valid intellectual property rights solely because they lack a proof-of-concept. Even though they have potential for addressing socially relevant concerns, projects often cannot find outside financing, either because they are in an early stage or deal with issues that are not yet on the public's radar.
The University of Stuttgart is capable of independently funding the development of demonstration projects and prototypes as well as interdisciplinary knowledge transfer projects by internal University applicants. To be eligible for funding, projects should have significant social utility and high public visibility and preferably take a highly innovative, interdisciplinary approach. An example of a project fitting these criteria is the e1nszue1ns platform [de] that bundles different institute- and department-spanning projects on the topic "Socially Responsible Construction – Architecture as Social Design" and publicizes them.
Contact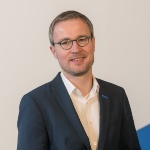 Univ.-Prof. Dr.-Ing.
Peter Middendorf
Vice Rector for Knowledge and Technology Transfer