The design increasingly dictates how we experience and use technology. The Humboldt scholarship holder, Céline Coutrix from France, is also convinced of this. In her research work, design does not mean static form but a programed design in such a way that objects of the most diverse dimensions are enabled to change their shape – in interaction with previously researched specific user requirements. In the case of the hitherto flat smart phone, for example, two-dimensional keys displayed on the screen are to turn into three-dimensional keys upon corresponding touch, leading to increased user friendliness. The research carried out by Ms Coutrix combines creativity and empirical investigating with users.
Ms Coutrix belongs to the spearhead of the discipline human-computer-interaction. At the beginning of the year, she was distinguished by her local employer, Centre National de la Recherche Scientifique (CNRS) in Paris for her expertise. The medal is aimed at specialists in their respective research fields.
University of Stuttgart as optimum address
A futuristic scenario reveals itself when the charming French lady speaks. At the Institute for Visualization and Interactive Systems (Institut für Visualisierung und Interaktive Systeme / VIS), to be more precise at the Excellence Cluster for Simulation Technology, a new building at Pfaffenwaldring 5a, Ms Coutrix is pursuing a one-year research project. There she wishes by means of simulation and visualisation to research and predict where interactive changes in the design make sense and are therefore to be made possible. Stuttgart was the university of her choice for this project since the team led by her visiting professor, Albrecht Schmidt, is internationally known. In addition, her research topic fits very well with the work carried out at the institute. At VIS the computer scientist, Mr Schmidt, heads up the work group human-computer-interaction.
Ms Coutrix would like to make any type of computer more user friendly in its form using variation possibilities. On the basis of "soft robotics" she manipulates objects, lets them grow or shrink for previously defined activities and after this return to their original form. For her studies the computer scientist works together with "hard robotics". Based on different prototypes, tests are carried out as to how good humans can work with the newly designed computerized object. One of her prototypes is, for example, a mixing console, the controller of which can adopt different sizes.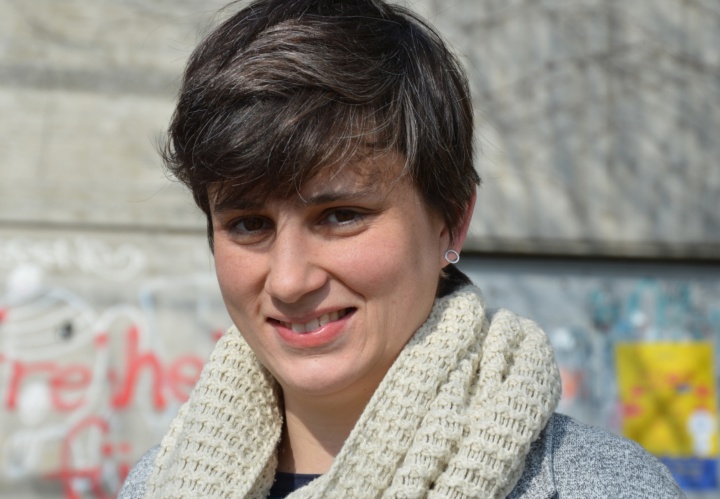 Flexible form = more flexible use

The formula is: the form should be able to change according to the needs of humans. Depending on the design, it can also improve or change the performance. For example, with the enlargement of an operating element the accuracy of its use could increase. However, it the user wishes to be mobile, he reduces the size of the element and in place of this accepts a loss of accuracy. Together with the VIS, Ms Coutrix wishes to update fundamental knowledge by the interaction with physically flexible user interfaces. Up to now there has been a great knowledge deficit as to how the physical change in form and the digital representation of data can be combined.
As a pupil Céline enjoyed mathematics and attempting to find solutions to problems. Added to this was her love of art. For a while she tried to link art and computer science in an interdisciplinary way. She programed art installations that changed when touched.
Differences in research

Occasionally the CNRS is indeed compared with the Max-Planck-Institute, yet at MPI you then work at a certain institute, remarked the polyglot scientist. A different case in the otherwise centralized France. As soon as the National Centre for Science Research in Paris has made a position available, the holder of the position can take up the research work at almost every French research institute.
At the time Ms Coutrix decided in favor of Grenoble and has been in the comfortable situation for seven years of having a permanent position. Then why move to Germany? "It is an enriching experience every now and then to work together with other scientists", laughs the 34-year-old gifted scientist. The working methods are certainly different. After her postgraduate studies, the computer scientist had been abroad once before, at the time in Helsinki (Finland). "My knowledge as to how research work was carried out internationally was limited to date to two nations", she said modestly.
From Grenoble to Tübingen

Céline Coutrix moved with her husband and small daughter from the mountainous region of Grenoble to Germany. Not to Stuttgart but to Tübingen because her husband was doing research work at the Max-Planck-Institute there at the time. Therefore the uncomplicated woman from Normandy only knew the university campus of Stuttgart up to then. Their small daughter speaks more German than French. Her little sister will be born in a few days time. Yet the mother of two will not be off work for long. From the middle of July her life will again be dedicated to research. Here to, she stated smilingly, there is a cultural difference between France and Germany.