Once a year, the University of Stuttgart opens its laboratory doors. This year they will be opening online. We will be introducing exciting research topics, examining what the working world of the future will look like, and how the University of Stuttgart can best prepare its students for the coming social challenges. Whether you are interested in AI, sustainability, mobility, or simulation technologies: we are training the problem solvers of the future!
In addition to its Science Days event, the University of Stuttgart will also be holding a further online event, to give prospective students insight into the Bachelor's study programs on offer. The digital Bachelor's Application Week [de] from June 28 to July 2, 2021, will provide prospective students with a wealth of information about Bachelor's study programs at the University of Stuttgart. All the events taking place in this week will be held online between 3:00 p.m. and 7:00 p.m.
More information about the schedule for both events will be available online from the end of May.
Kontakt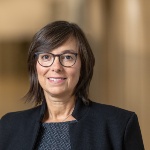 Claudia Berardis
Coordinator PR and Marketing, Online Editor