Why not get acquainted with the university in childhood? The Children's University makes it possible. In lectures lasting one hour on average, professors answer exciting knowledge questions. Since 2007/2008, both universities offer one or two lectures each semester for children between the ages 8-12.
When people drive cars or ride bicycles, they use their eyes and ears to orient themselves and avoid accidents. Researchers are currently developing cars that drive themselves. But how does a car that has no driver steer? How does a self-driving car know if the road is clear? How does it know if the light is red or green? Dr. Dan Greiner will answer these and other questions.
The lecture will also include an opportunity to see and touch technology up close. As a special experience, we will put ourselves in the position of a self-driving car and view the lecture hall as a car would see it.
Event language: German
Contact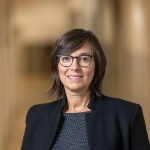 Claudia Berardis
Coordinator PR and Marketing, Online Editor