Why not get acquainted with the university in childhood? The Children's University makes it possible. In lectures lasting one hour on average, professors answer exciting knowledge questions. Since 2007/2008, both universities offer one or two lectures each semester for children between the ages 8-12.
Why do we want to explore space and where does it even begin? What challenges are involved in constructing instruments for exploring space? Why is space travel necessary? Professor Klinkner will be answering these questions and many more. She will also show you satellites that have been developed at the University of Stuttgart and demonstrate what these can do.
And get ready for a special treat - during the lecture you will even get to see a moon rover in action and discover what rover systems need to be capable of and why they drive much slower than your remote control cars at home.
Event language: German
Contact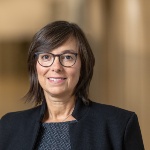 Claudia Berardis
Coordinator PR and Marketing, Online Editor